Izakaya with fresh and reasonable seafood dishes run by fishmongers. Izakaya Yuzu (Futenma, Ginowan City)
Futenma is located in the northeastern part of Ginowan city. It is West of National Route 330, which traverses the Okinawan Central region. The area is home to retro malls, bar-lined streets, and residential streets. It gives a glimpse of the lives of people in the area. "Izakaya Yuzu"is among them. Regular customers start arriving when the shop opens at 6:00pm.
" This Izakaya has a calm atmosphere. Guests are welcomed by our shopkeepers trained in Japanese style cuisine.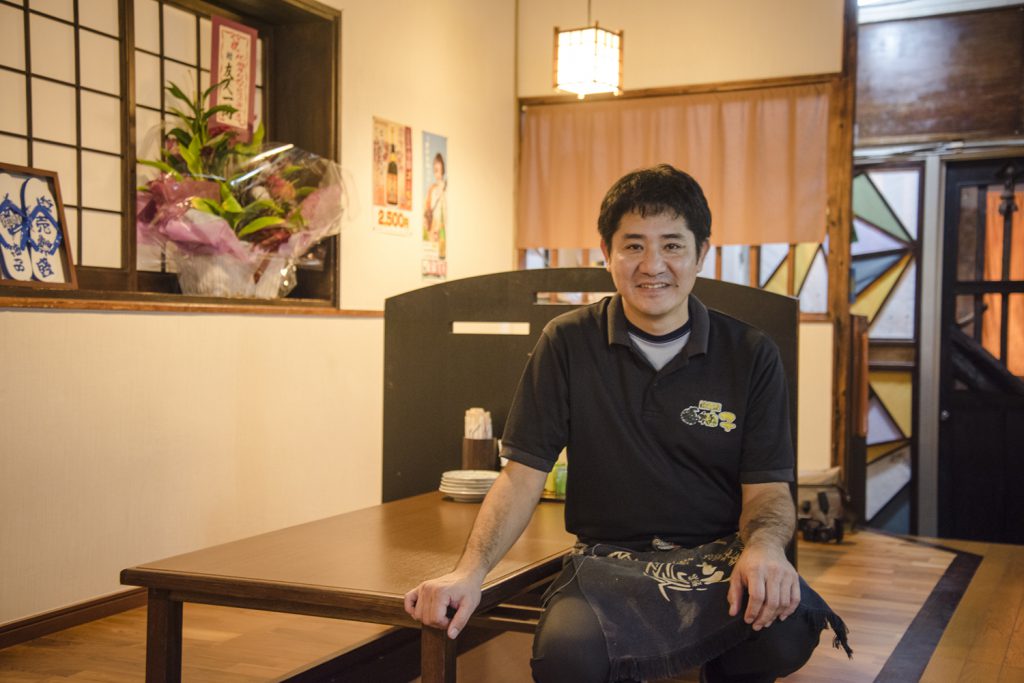 Mr.Naoki Kaneshi from Ginowan City is the owner of the Izakaya. Mr. Kaneshi, trained as a Western cuisine chef at a hotel and at a Japanese sushi restaurant in Kanagawa prefecture, opened "Yuzu" in 2006. From a young age on, his dream was to open up shop in Ginowan.
The interior is not too big and it is not too small. It is moderately spacious with a calm atmosphere. In addition to the counter and the seats, there are also two private rooms, making it a warm and easy access for travelers. Three customers visited on the same day it was opened. They were fans of the Yokohama DeNA Baystars, a professional Japanese baseball team in Ginowan City, gathered here for a game. Drinking beer in uniform, cheering for their favorite team, is universal, isn`t it?
The Izakaya is part of the food culture in Japan and its styles are very versatile. Here you can enjoy sake and meals at reasonable prices. Each restaurant has its unique atmosphere, such as service, taste preference, specialty dishes, rare alcoholic drinks and so on. It is common for locals to go to such restaurants.
And here is the reason why our customers in Ginowan frequently go to this restaurant. The owner Mr. Kaneshi has his own shop in the Tomari fishing port. Kaneshi's intention was to offer cheap fresh seafood. Every day at the counter, seasonal fish and shellfish are all lined up. Our dishes make full use of ingredients based on Japanese food and Okinawa cuisine.
Fresh fish directly from the market! Big portions of seasonal fresh fish at resonable prices!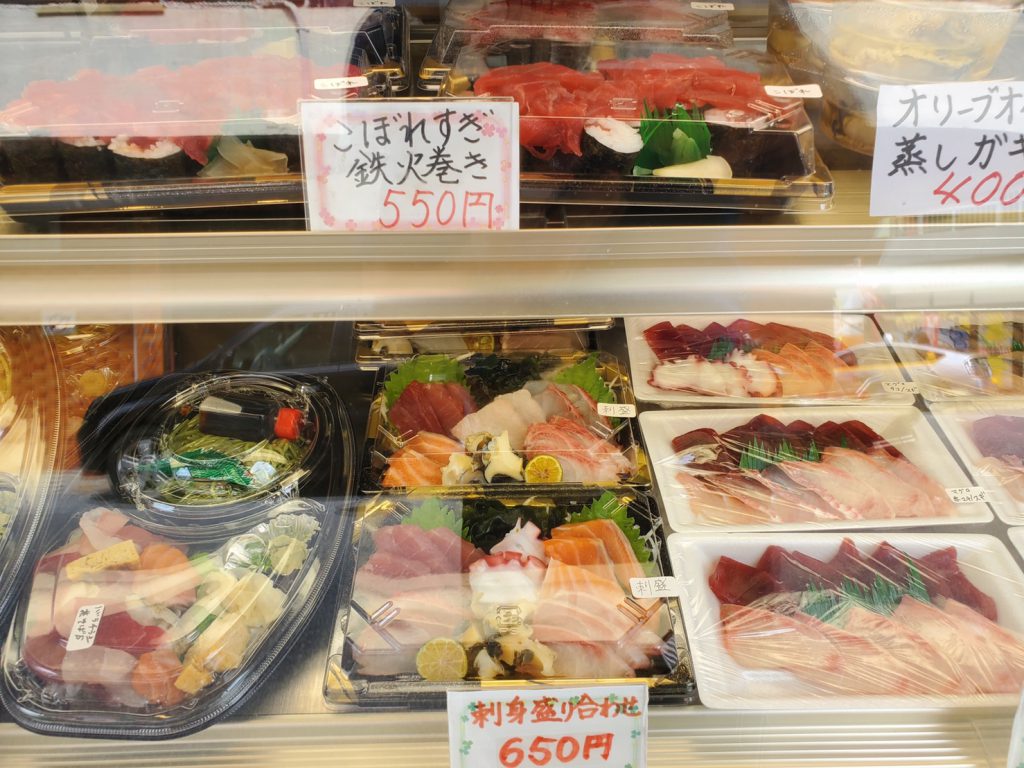 The specialty menu of this restaurant is here. It has a limited "7 piece sushi" (500 yen) option. It is surprising that the price is cheap, but the freshness and the size of the sashimi are even more so . Our sushi roll changes depending on the catch from time to time, but there are times when you can eat fresh fish from Okinawa. However, it is recommended to come early as the menu may be sold out.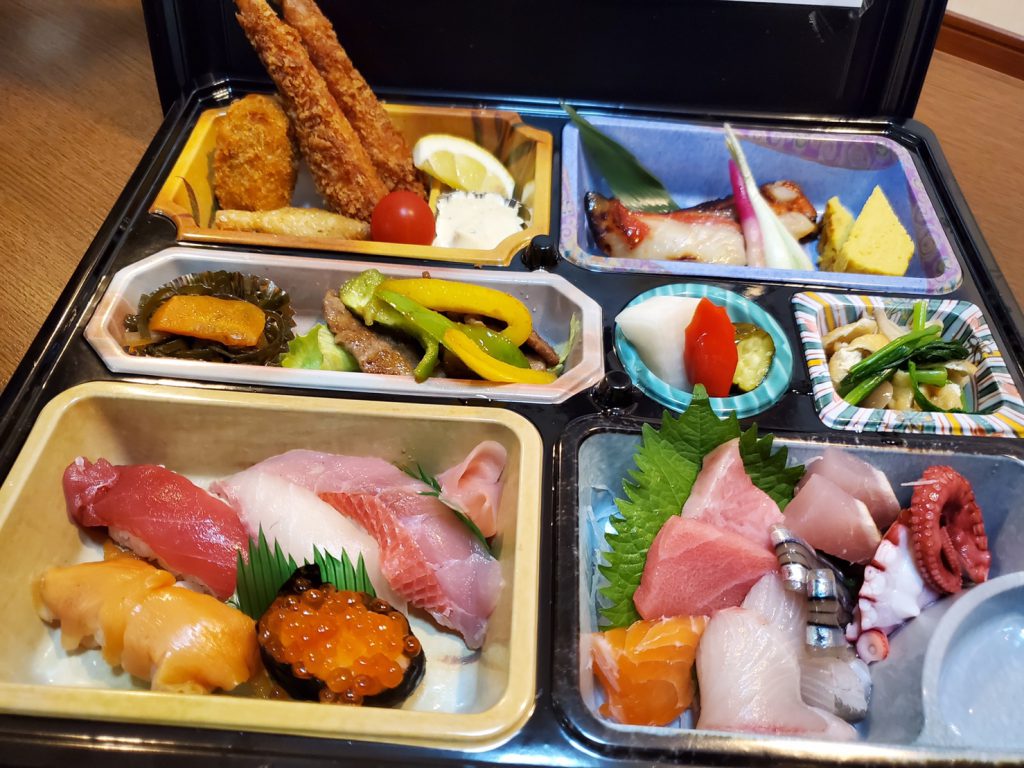 And here is another reason: Our fish comes directly from the market. Fish and shellfish are sent directly from all over the country. The"Hotate butter sauteed scallops" (480 yen per sheet) is a famous dish and made in the Hokkaido and Tohoku region. Grilled in butter soy sauce, it goes great with sake.
Besides that, we also have "Garlic Buttered Fried Fish" which is made with sauteed white fish straight from the Okinawan waters as well as "Seafood Miso Soup" (780 yen) which is miso soup flavored with fish. Challenge yourself by trying out these dishes. Of course we also have various cuisines for those who don't like seafood such as yakitori, fried food, rice, and pasta so everyone can enjoy. Try out our diverse cuisine!
Izakaya Yuzu
| | |
| --- | --- |
| location | 2-6-11 Futenma, Ginowan City, Okinawa. |
| business hours | Lunch 11: 30-14: 00 (13: 30L.O.) Night 14: 00-22: 00 (21: 30L.O.) Saturday 14: 00-24: 00 (23: 00L.O.) |
| Regular holiday | Irregular holidays |
| phone | 098-892-8188 |
| Parking Lot | Nearby parking lot is available * 100 yen cash back for those who see this website |