The delightful round shape of these fresh cornet made in Okinawa spreads the circle of smiles(Ginowan, Ginowan City)
The cute round shape cornet pie reminds Japanese people of a "circle," a "rim" and a "ring". The shape of the cornet pie alludes to the "Yuimaaru," the Okinawan spirit that shows care for other people. So, how about a sweet treat from Ginowan that is filled with cream and made with ingredients from Okinawa? It is made into the shape of a cornet.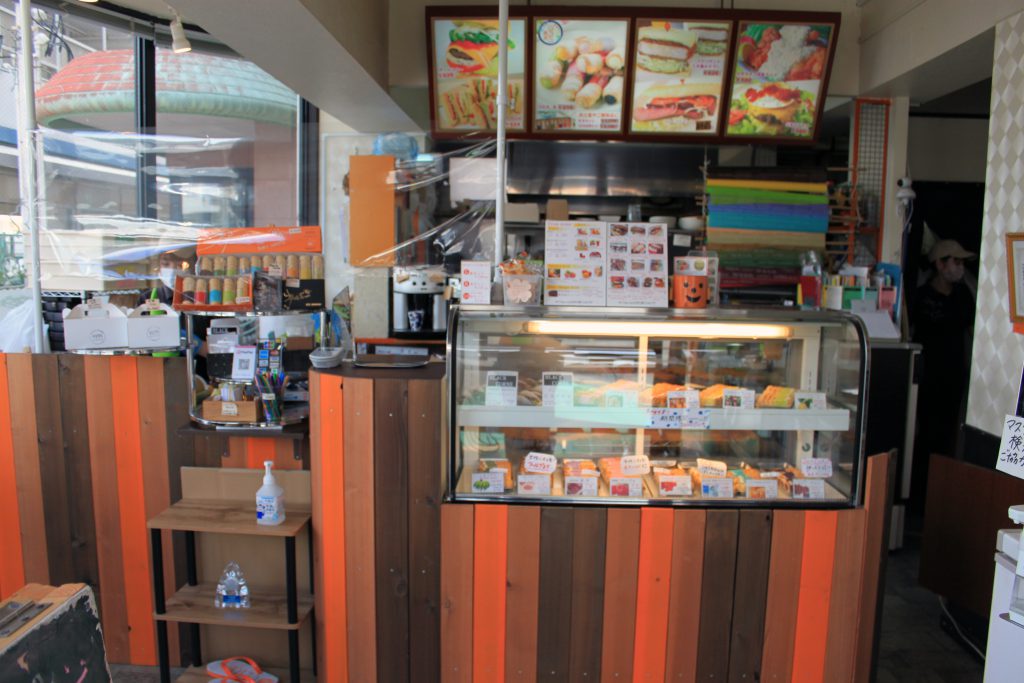 The is an interesting story about the creation of the cornet pie in Okinawa. What is so interesting about this pastry, filled with ingredients from Okinawa? It was the owner's idea. In 2013, This bakery received the "Ginowan City Special Product Certification." It won the Ginowan Mayor Award for best prize at the Okinawa Prefecture Industry Festival. "Pippi" which makes cornet pie is a bakery loved by locals as the only cornet bakery in Okinawa.
Our cream is made with natural prefectural ingredients!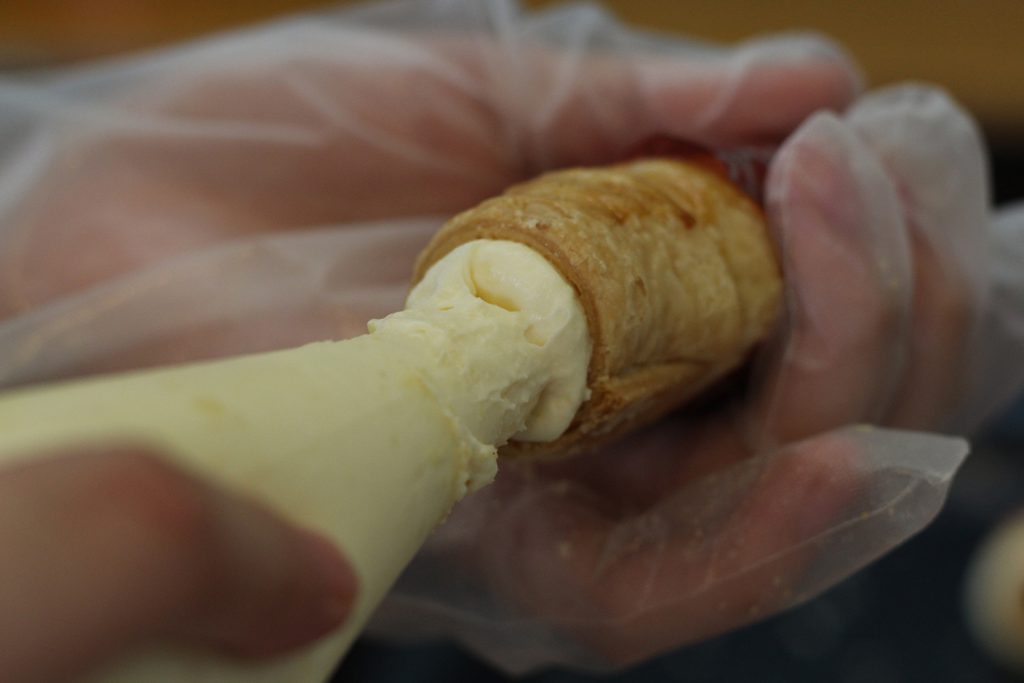 Our female customers love the cornet because of the cute look and the variety of colorful creams made with special products from Okinawa. About 20 kinds of flavors are available including mango, snow salt, caramel, Yomitan Village red bean, Nago City's pineapple, and Ginowan City Taaimo potato. Also during the strawberry season, we use "Tochi Otome" which is a popular brand of strawberry. After trying the new flavor, we get new customers everytime!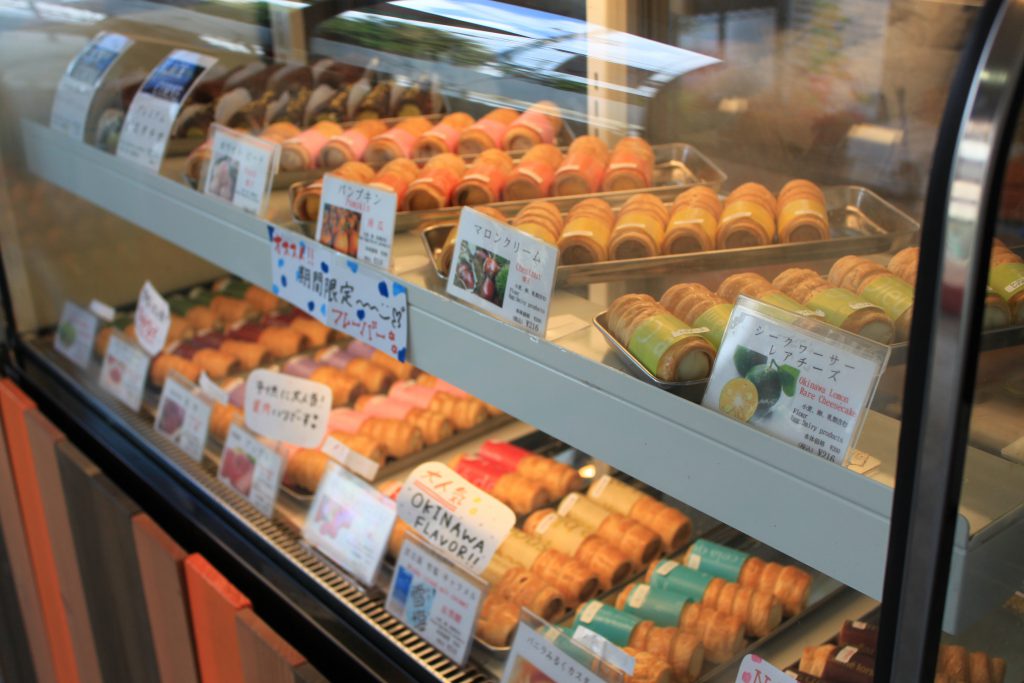 The size is small, however, it is preeminent to eat because it is full of cream. The texture is just like a pie or a cookie so that it does not become too soft. However, the butter flavor works firmly. After many trial and error repetitions, the taste evolves year after year.
We aim to become the one-and-only cornet pie shop in the region! .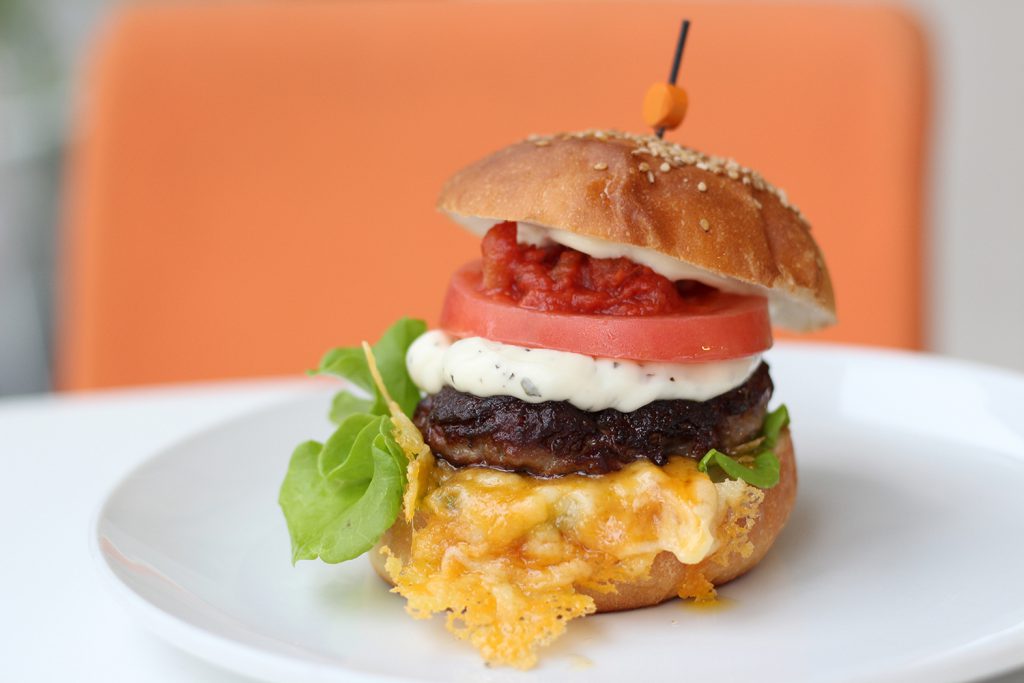 Our handmade hamburgers and grilled sandwiches are also one of the foods that carry the signature of the shop. "G-1 Burger 540 yen" is named the original local burger and the initials comes from the name of Ginowan City. The buns, which use valuable prefectural wheat, are stuck together for a direct taste of the meat with the bread. In addition, herb cheddar and cheddar cheese are mixed. Many island vegetables may be tasted as well. While pursuing deliciousness, we positively value and cherish the ingredients of Okinawa.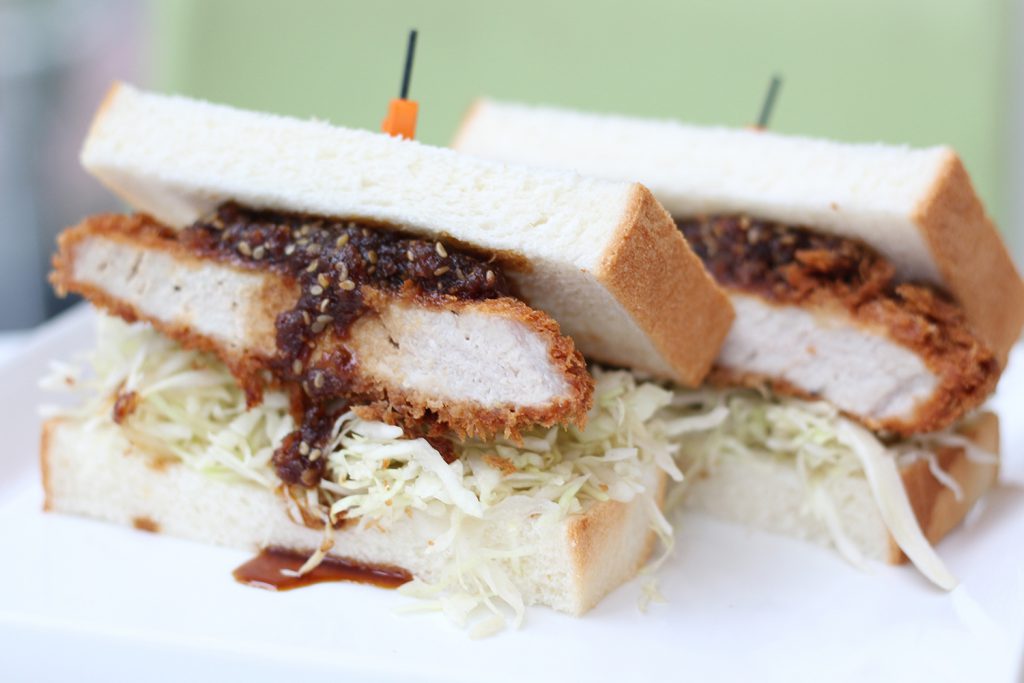 "Kume Island Miso Loose Cuts Sandwich (680 yen)" has a lot of vegetables with tonkatsu which is made with prefectural pork loin. The source using Kume Island Miso, which is a special product from Okinawa's remote island · Kume Island, is the taste factor. It is an unexpectedly popular menu for ladies despite its huge portion. Freshly brewed coffee is recommended for the accompanying snacks. Many customers do take out, but you can also eat-in. We also have Wi-Fi available. Please stop by while taking a break from driving.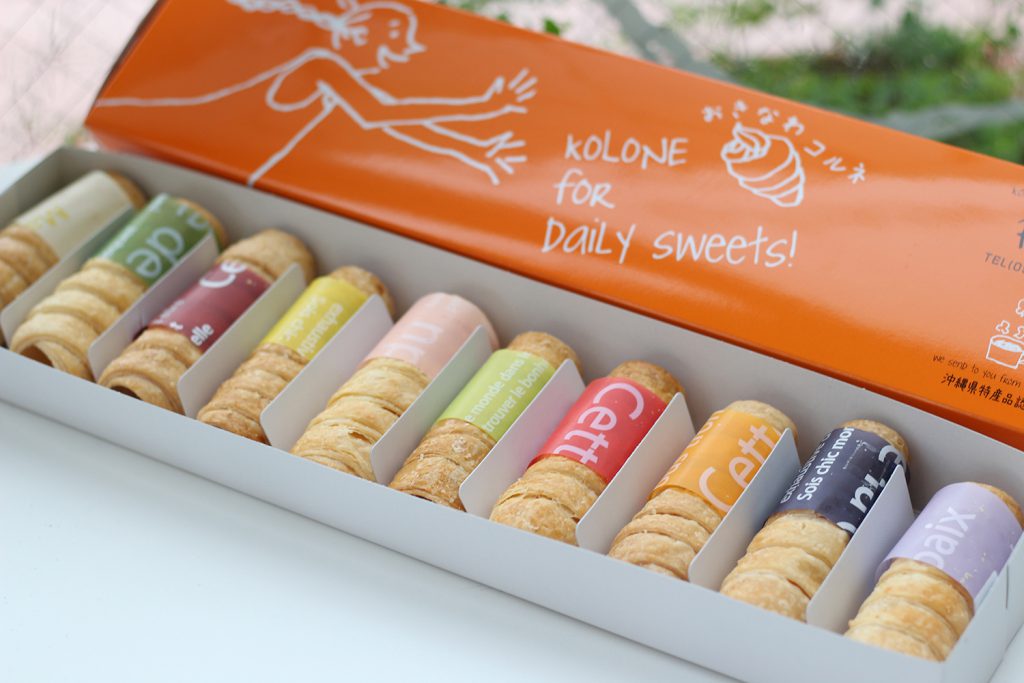 Our original package is popular among Okinawans, as it contains multiple items that may be used as gifts. If you purchase 10 sets for 2,160 yen, 8 pieces for 1,878 yen, 5 pieces for 1,230 yen,
Cornet pie and Sandwich shop pippi
| | |
| --- | --- |
| location | 3-16-25 Ginowan, Ginowan City, Okinawa. |
| business hours | 09:00-20:00 |
| Regular holiday | None |
| phone | 098-893-2132 |
| URL | https://www.pippi.biz/ |
| Parking Lot | 3 parking spaces available |