A shop filled with beauty and health ideas that you can use immediately. B + OKINAWA (Ojana, Ginowan)
Wanting to spread the message about positive things that can be added to our daily lives for health and beauty, this shop was started up by an Okinawa-born owner who works as a hair and makeup artist in Tokyo.

This is a place where you can find things to add richness to your daily life through healthy juices, salads, and self-enrichment workshops.
Are you familiar with cold-pressed juices?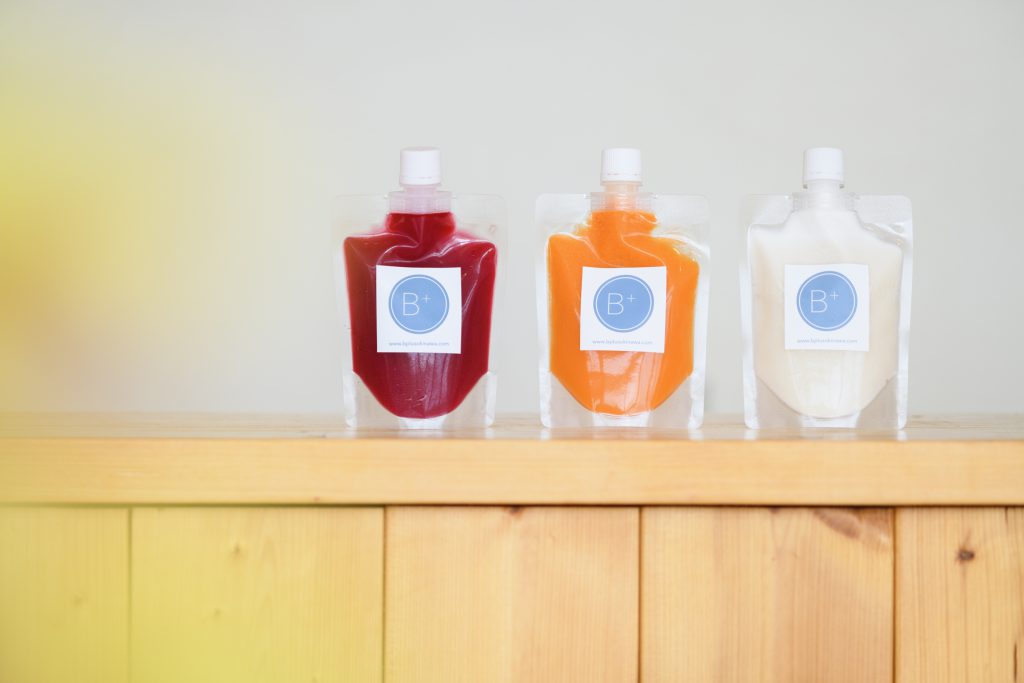 Because our special juicer uses compression technology to extract juices, fresh fruits and vegetables are never compromised by heat, so your body can absorb their nutrients without burdening your digestive system. Enjoy completely additive-free cold-pressed juices at "B+ OKINAWA." The red juice on the left (¥880, tax included) contains beetroot, carrot, pineapple, apple, and lemon juice. It is good for anti-aging care, beautifying the skin, and improving the digestion. The orange juice in the middle (¥780, tax included) contains orange, carrot, and lemon juice to help boost immunity. White Nut Milk (¥600, tax included), made in-house using cashew nuts. It seems to relieve fatigue and prevent anemia.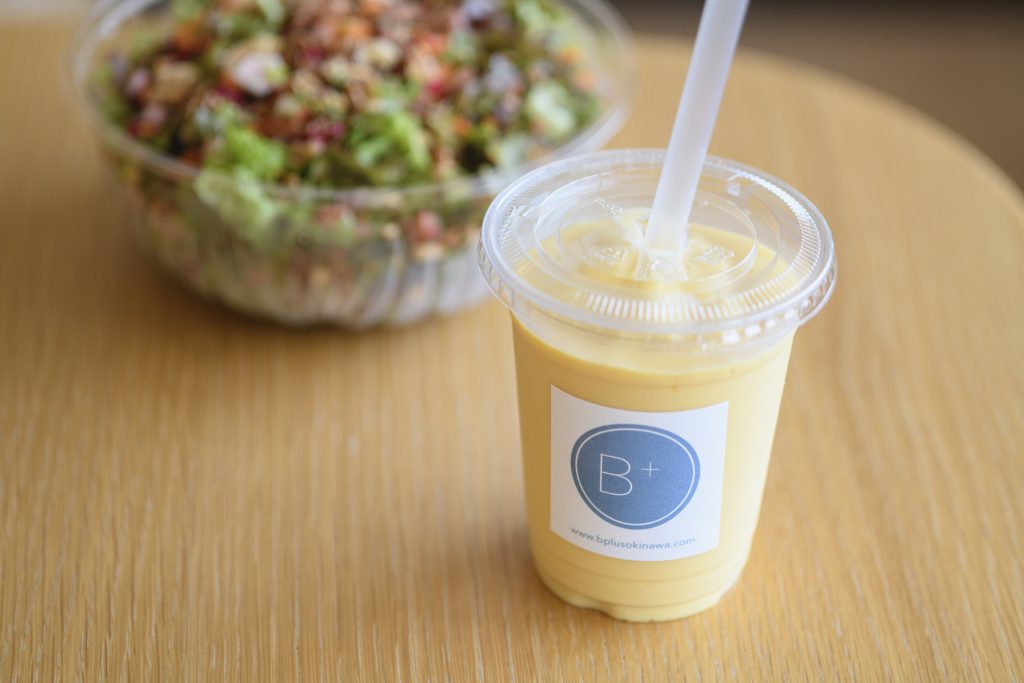 "When your gut is feeling tired from daily stresses, eating and drinking too much, or from the kinds of foods you eat when traveling, why not try giving the body a little re-set by replacing one meal each day with a smoothie and a salad? A smoothie (¥600, tax included) is a drink that is blended in a mixer from frozen fruits and vegetables. However, this shop does not use water, ice, or white sugar in its smoothies, so the taste of the ingredients can be enjoyed fully. Custom sandwiches (¥980, tax included), where you can enjoy your choice of fruits and vegetables on top of a base of fresh, seasonal leafy greens, are also fun to look at.
The bright and spacious store is in a location that is easy to find.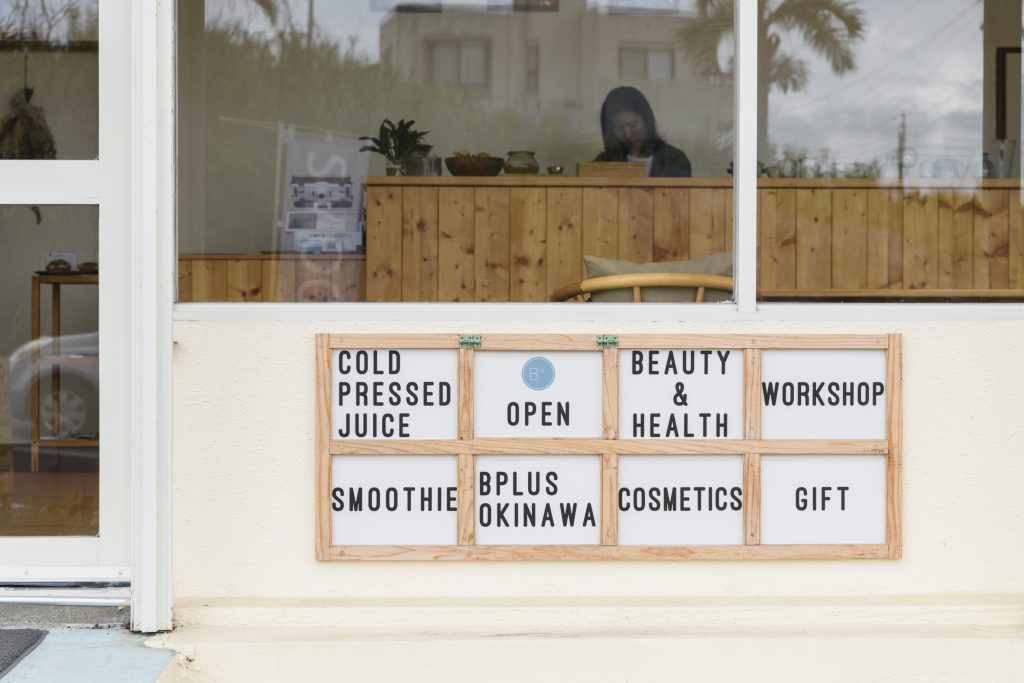 Exit Naha Airport on National Highway 58, heading north. Turn right at Ojana Intersection and go straight up the slope. You'll find the store on the right. There is one car-parking space in front of the glass-fronted shop. There is one more car-parking space a few meters away. The English sign serves as a landmark.
Customers are also welcome to dine in-store, which has a gentle-feeling, unfinished wood interior.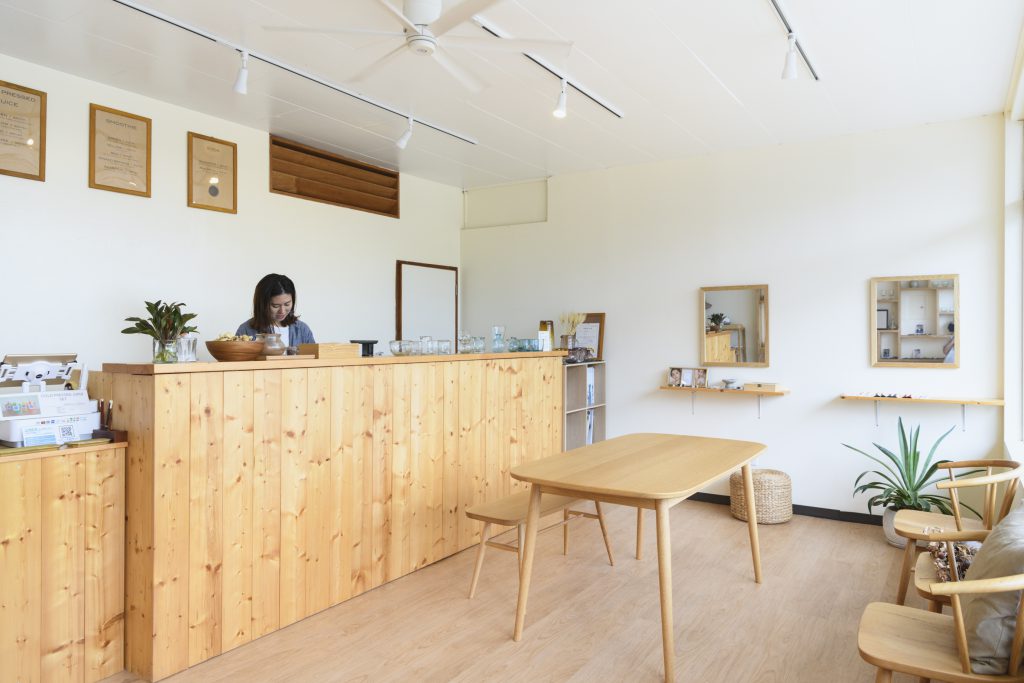 Makeup classes, and workshops in accessories making and flowers are also on offer. Our amazake, made in-house using domestic malted rice, is also a favorite. Event information is announced on Instagram and the shop website.
Delicious food and wonderful things to excite the mind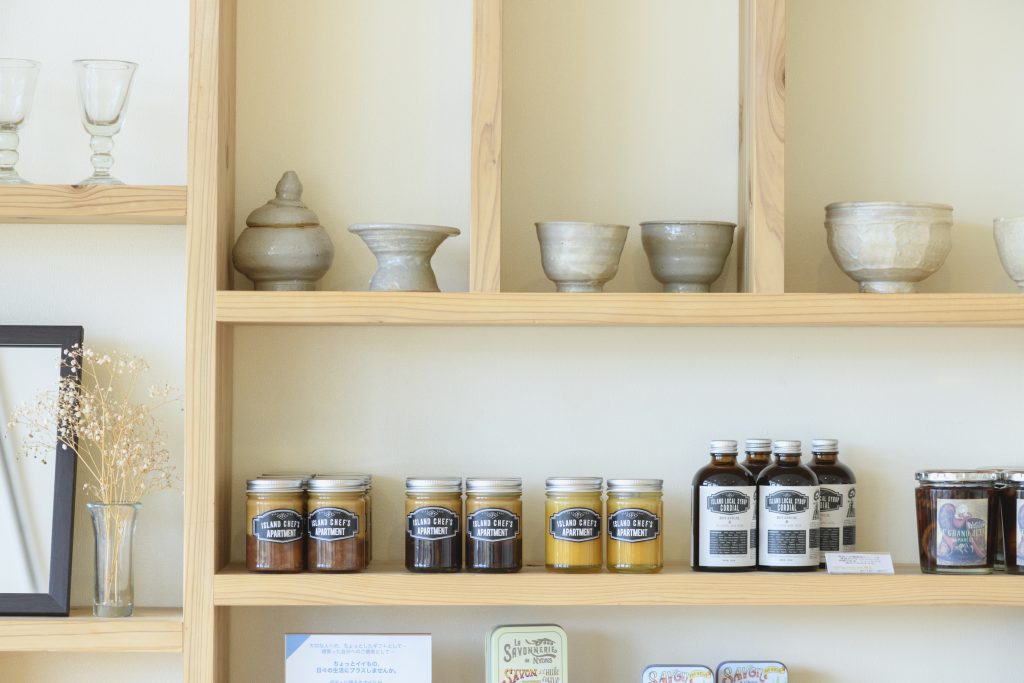 On the built-in shelf that is on the left just inside the entrance, you will find a selection of products that were bought by the owner. Original cordial syrup (¥2,160, tax included) and Lilikoi butter (¥1,440, tax included) by Atelier Cafe Bar Seihei in Nakijin Village are popular Okinawan souvenir items that are also familiar to international tourists.

The ceramics produced in Mashiko, Tochigi Prefecture are an array of items that were carefully selected by the owner who visited the ceramics market.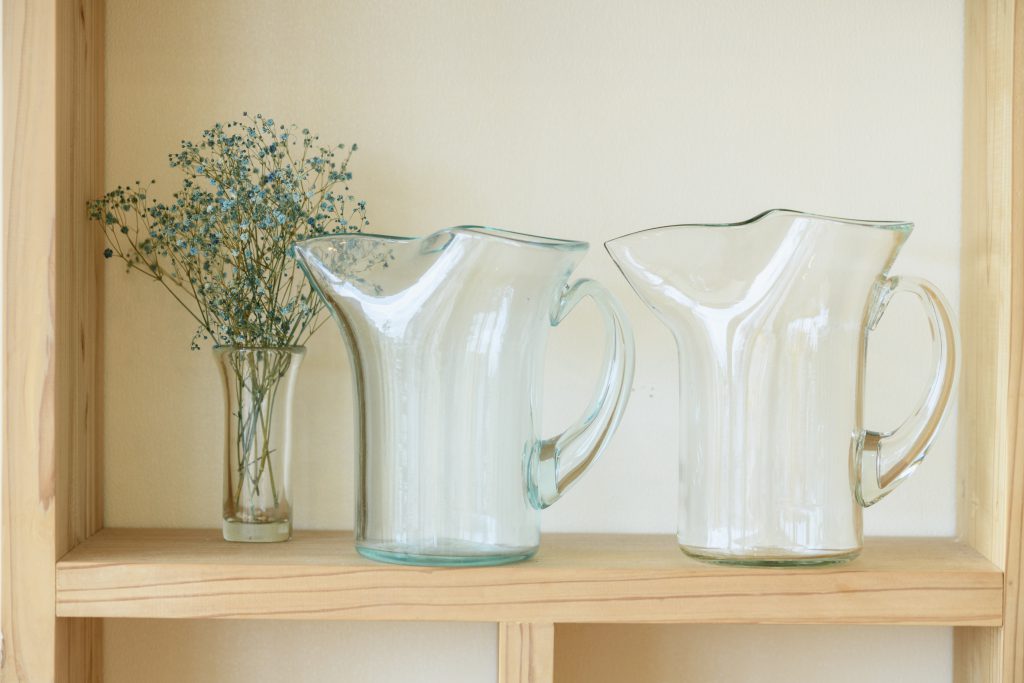 Ryukyu glass, a traditional Okinawan craft, is also available. A popular product by Okuhara Glass, a company that continues to make glass from discarded bottles, is the pelican pitcher (right: ¥6,480, left: ¥5,940 yen, tax included). Although this is a pitcher, many people apparently use it as a flower vase.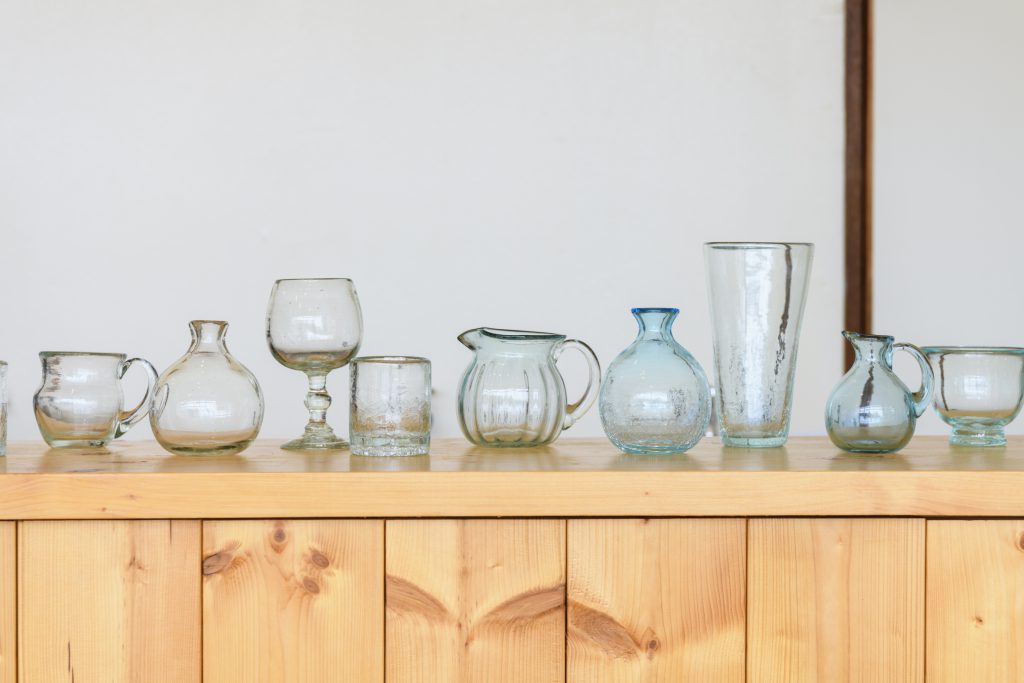 Incidentally, the Ryukyu glass items made by Okuhara Glass that are lined up on the counter are all dead stock items. Staff from the shop go / The owner goes to the Okuhara Glass warehouse and carefully select / selects these items one by one. Some items can be purchased at 50% of the regular price! This is an opportunity to get a unique item, full of originality.
Accessories designed by the owner [Losau Jewelry].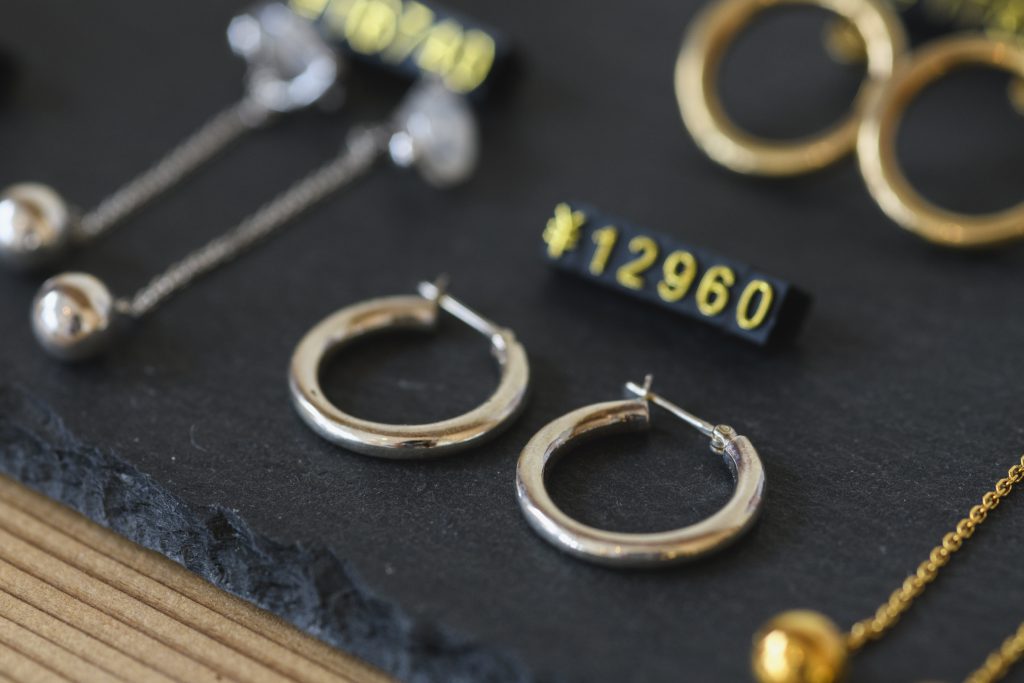 The designs are based on the theme of women who travel and have captured the nature, texture, and forms that can be felt from the image of different places. We invite you to drop by and visit this shop, which fills the mind and body with positive vibes.
B+OKINAWA
location
1-6-5 oyama, Ginowan, Okinawa Prefecture
business hours
11:00 a.m.–6:00 p.m.
Regular holiday
Mondays and Tuesdays (* Open on public holidays)
phone
098-898-5195
URL
https://www.bplusokinawa.com/
Parking Lot
Available (4 spaces in front of the shop)
Remarks
★Facebook
https://www.facebook.com/bplusokinawa/
★Instagram
https://www.instagram.com/bplus_okinawa/