Would you like to try a healthy, gluten-free donut made of brown rice? HYGGE Baked Donuts (Oyama, Ginowan)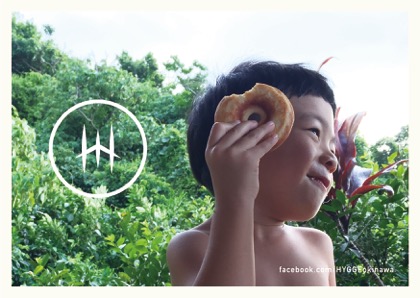 I first became a father at 40 years old. Every day I spent with him was precious and dear to me, and watching him grow day by day gives me more joy than anything else. I remember thinking one day about how much I loved donuts as a child. I saw my own boyhood face in my memories, smiling ear to ear. I wanted to share that joy with my son, to see the same smile crinkle his eyes, and I felt inspired to bake donuts for the very first time. Needless to say, it was an educational experience. As I was assembling the ingredients, I found myself thinking, "Did these really have that much sugar in them?" "Did they really have so many ingredients?" And then, he took his first bite. Looking up at me, all he said was, "Wow, Daddy. You make really good donuts!" "Good." What a magical world. While he was happy eating it, it made me happy for making it. That's when a thought occured to me. "Just you wait," I said. I'd make them even better! I'd make them even better! Dusted with a touch of sugar once they're done. Made using simple ingredients; the more natural, the better. That's how my simple donuts are made; safe enough to feed to my own son. This heartwaring story is written on the back of the flier for HYGGE's Baked Donuts. The logo pictured next to the child shows a father and mother holding hands with their son.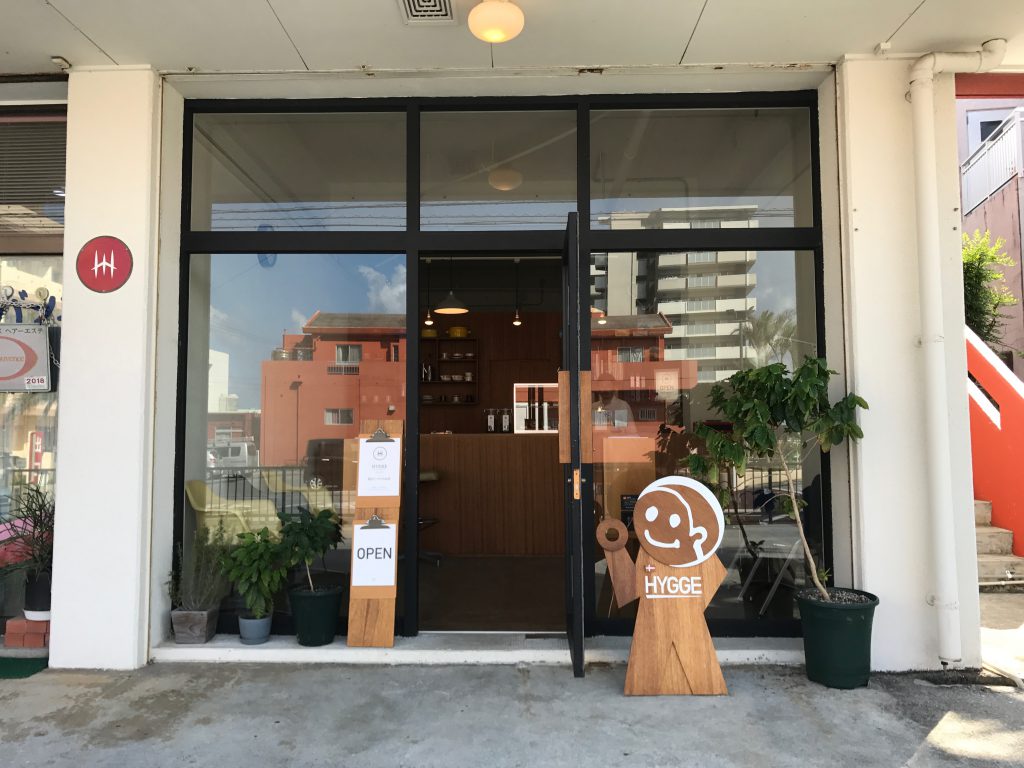 Just behind "Jimmy, " the grocery store for imported goods just off of National Route 58, you'll find HYGGE's Baked Donuts standing right alongside the pipeline, "set apart by their trademark board out front picturing a young boy with a round donut in his hand. Three coffee trees stand near the front of the bakery as if to beckon you inside, and room for parking in front for a single vehicle.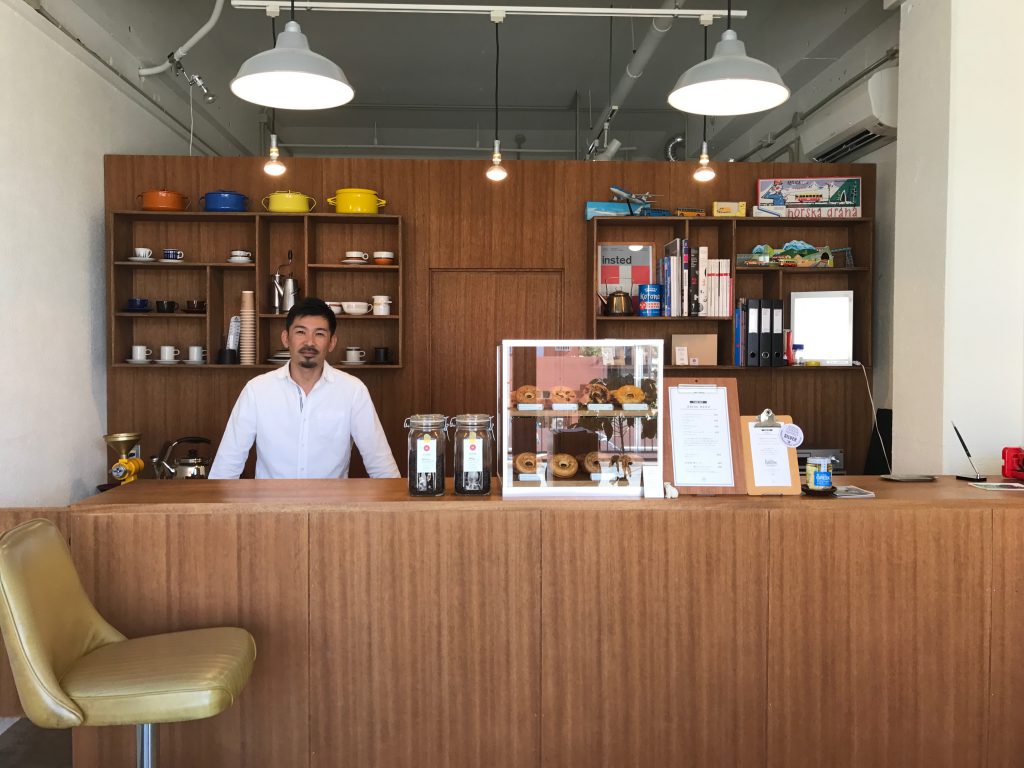 Its bright-faced master baker, Meguru Ishida, is also a graphic designer by trade.
The cafe's interior, its logos, and even its fliers were all made using his own designs. "Hygge" itself is a Danish word which carries the connotation of "A comforting and familiar atmosphere, born of the connection between people," and is a favorite phrase of Mr. Ishida's, having learned it during his travels to northern Europe.
Delicious donuts, made as healthfully as possible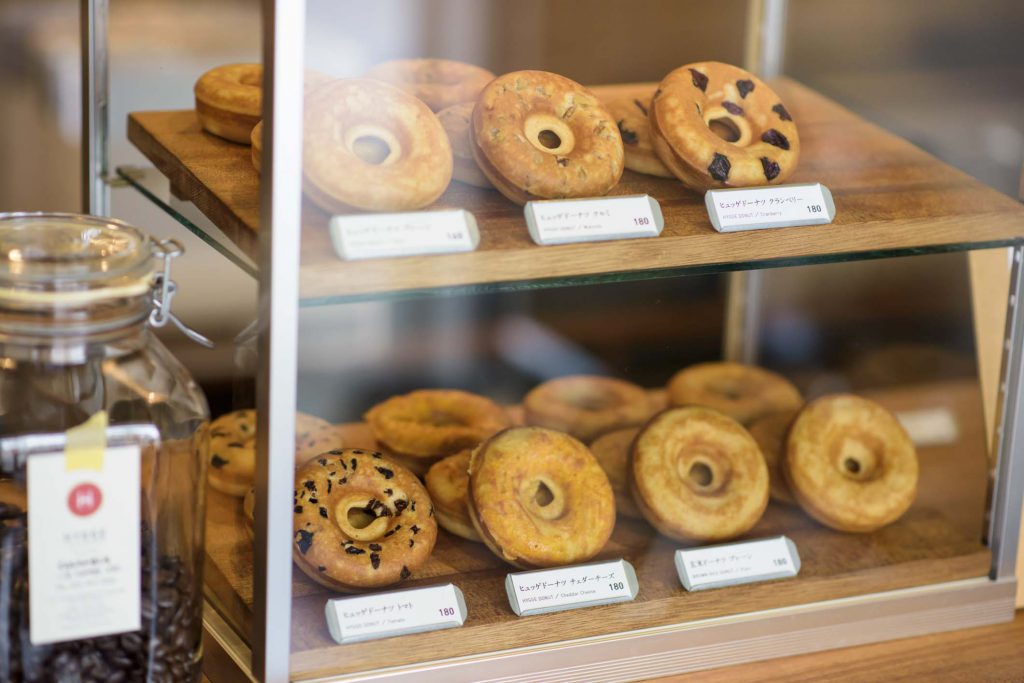 Six or Seven different varieties of donuts—baked, never fried—typically line the display at the counter. They are crafted without ever using preservatives and with as little cane sugar as possible. Their most popular donut is their brown rice flavor (¥240, tax included), which is made with brown rice flour and pesticide-free Indian millet harvested from the island of Hateruma, off the shores of Okinawa. The flavor of the brown rice flour is clearly defined, imparting a sweet flavor the longer you chew. And since they are so filling, many people come daily to buy them to have for breakfast. HYGGE's donuts (starting at ¥200, tax included) are made from a base of wheat flour, whole wheat flour, and brown rice flour, and feature a variety of flavors such as bran, chestnut, cheddar cheese, cranberry, and chocolate. HYGGE was initially founded with the intent of providing donuts that would be safe for even the smallest children to eat, but it has been welcomed by sugar-conscious adults with open arms, including athletes, models, ballet artists, and the like.
A baker who crafts a relaxing, comfortable atmosphere.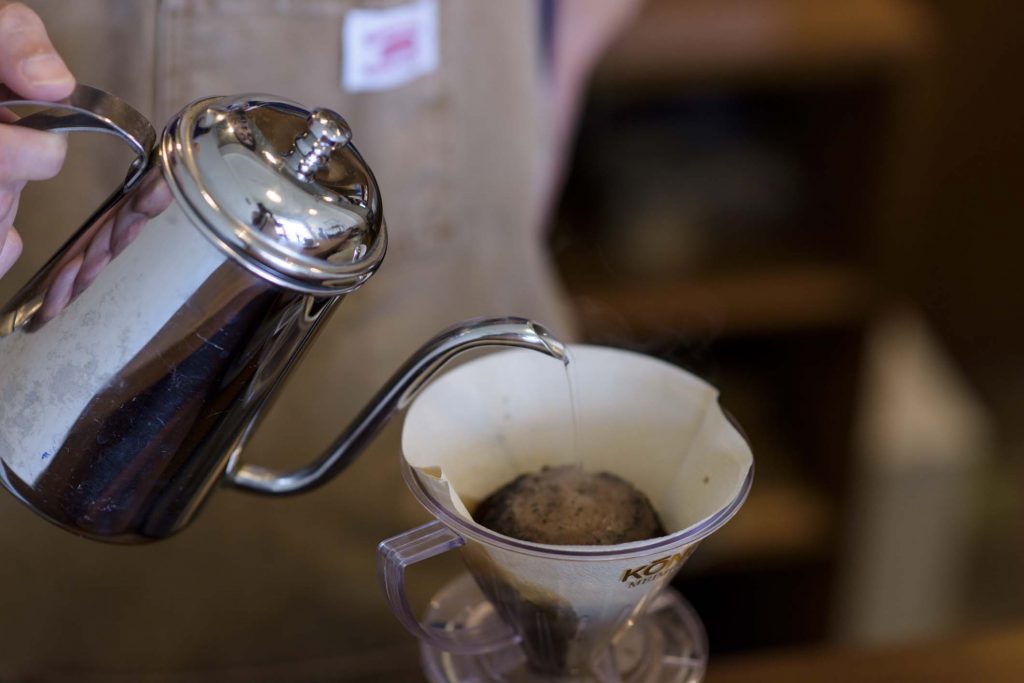 "Since I spend most of my day here, I outfitted it with all the things I liked," Mr. Ishida says. The highlight of his day is making his own cup of coffee, first thing in the morning. The bakery also offers a unique drink menu, including coffee (¥380, tax included) in addition to HYGEE's very own banana juice blend (¥400, tax included), banana coffee shakes (¥400, tax included), and their plum soda (¥500, tax included), which is available only for a limited period of time.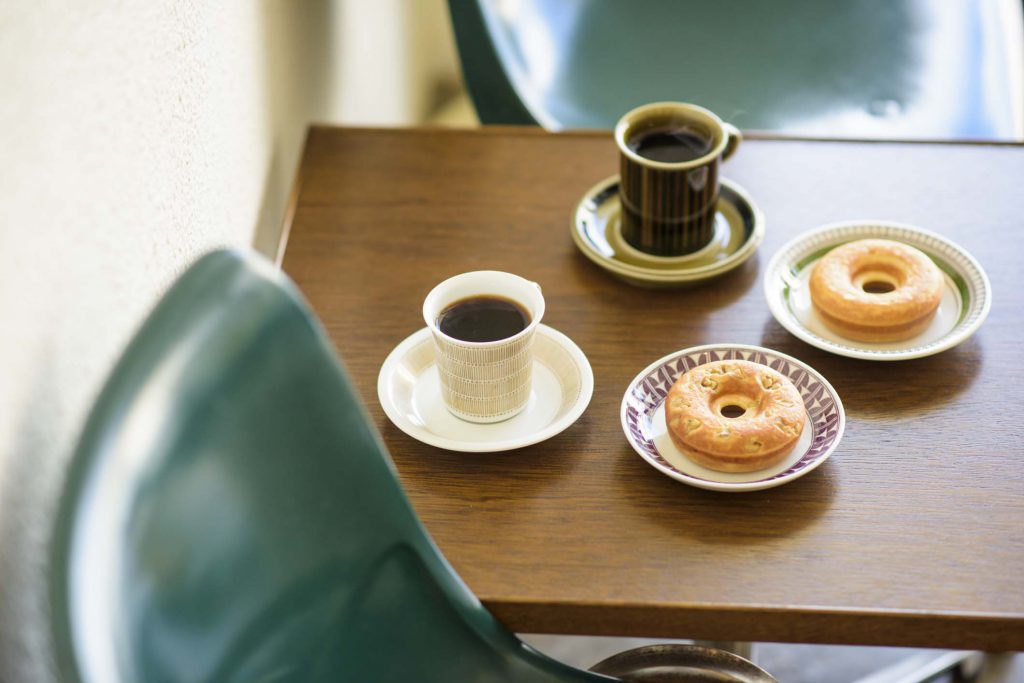 There are also areas where diners can enjoy their donuts inside.
Its tall ceilings and simple decor make this bakery an ideal photo spot, as well, and many customers enjoy uploading photos of their experiences to Instagram.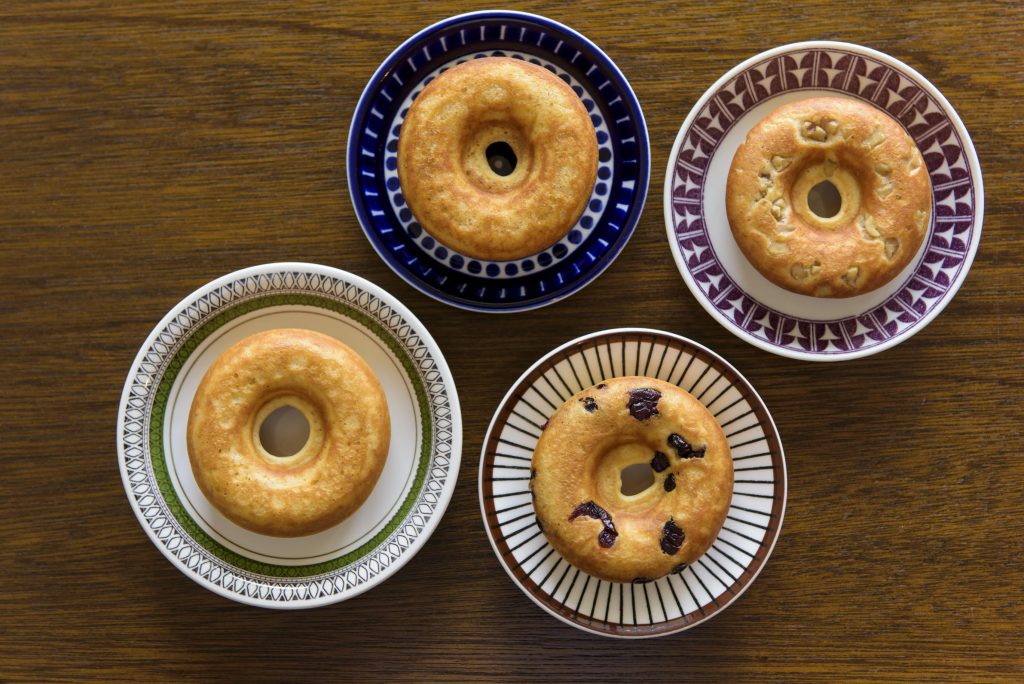 The multitiude of containers lining the area behind the counter were made by Arabia, Gustavsberg, Gefle, and others. They are literal vessels containing his cherished memories of visits to Finland and Sweden. The coffee saucer quickly transforms into a plate for donuts.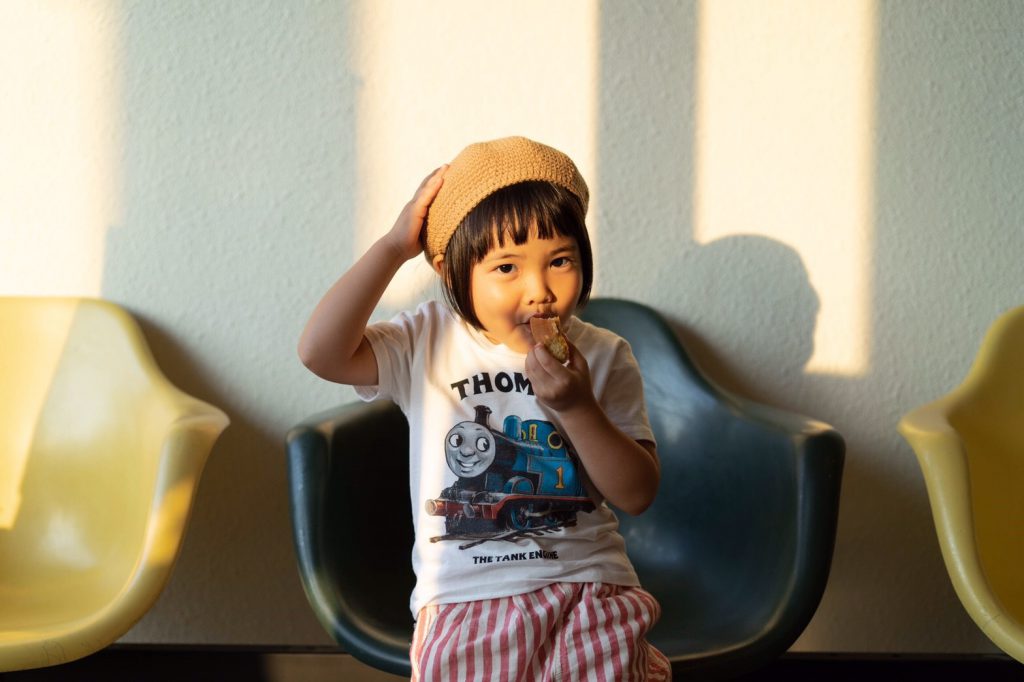 Uutan, HYGGE's tiniest regular, can gobble down two donuts at a time, even at the tender age of three. To this, Mr. Ishida says, "I just hope Uutan enjoys them as a cherished snack of their childhood later in life."
Meanwhile, smooth jazz plays from a record, another of Mr. Ishida's hobbies, over a Sansui amp and JBL speakers which are just as old as he is. Why not drop by to relax and recharge on your next trip through?
HYGGE Baked Donuts
location
2 chome 23-1 Oyama, Ginowan-shi, Okinawa-ken
business hours
Around 12:00 P.M. - 6:00 P.M. (May close earlier depending on stock.)
Regular holiday
Sundays and Mondays
phone
090-1947-0002
URL
https://www.facebook.com/HYGGEokinawa
Parking Lot
Yes (one spot in front of the store)
Remarks
★Instagram
https://www.instagram.com/hyggeokinawa/