A café that keeps you informed about the latest culinary information through veganism. PLANT-HOLIC(Ginowan City)
Our store name "PLANT-HOLIC" means "Plant Poisoning" when directly translated into English. It's quite a radical name. Here, we hope to catch onto this global culinary movement, and teach you the importance of choosing the right foods, starting with cafes. (with this café as your base).
Do you know about the diet genre called "veganism"?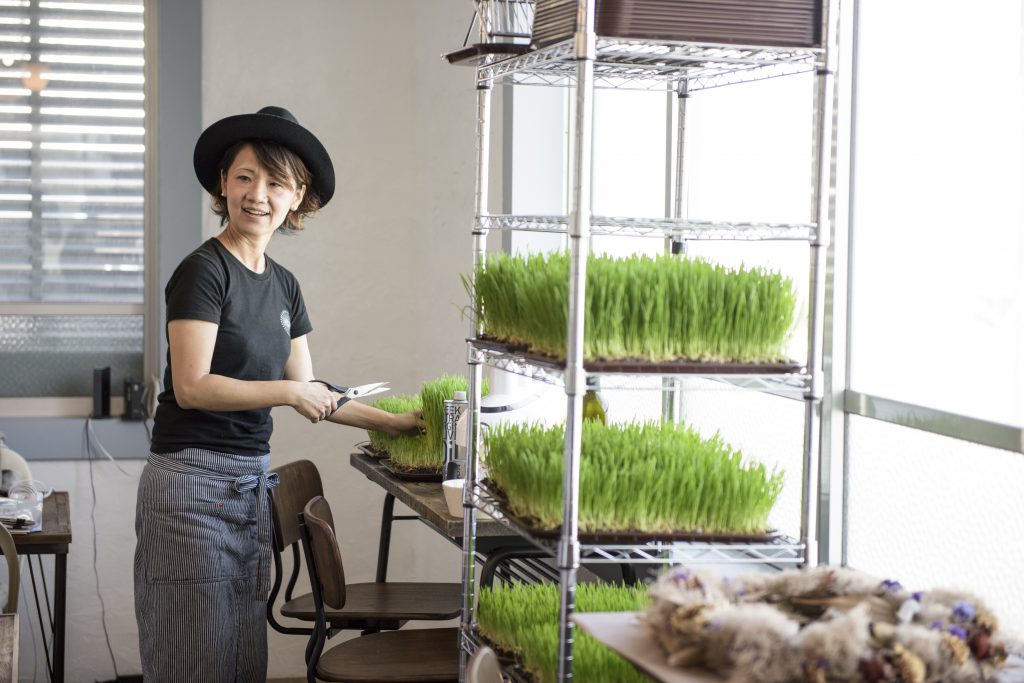 Vegans abstain from consuming animal products such as egg and dairy products. This lifestyle has experienced an enormous surge in popularity overseas, particularly in the West among the affluent and models as a form of health, beauty, spiritual maintenance. It has also been trending in Japan for several years. Ms. Mimi Saida, president of PLANT-HOLIC is one of Japan's most influential leaders of the vegan movement. Mimi first came to veganism in 2007 after undergoing much stress while working at an IT company in Tokyo. Reinvigorated by the depth and splendour of it, Mimi decided to go abroad to America to study cutting-edge culinary arts. Since obtaining her qualifcation as a gourmet chef, Mimi currently works as a raw food instructor in Okinawa prefecture.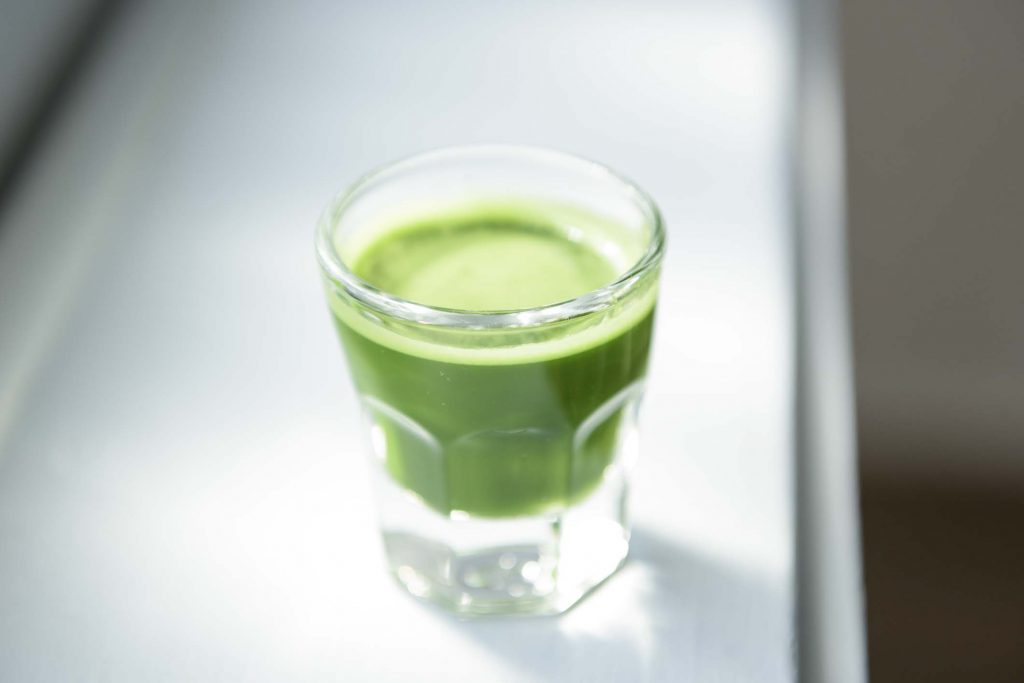 PLANT-HOLIC is renowned for its 100% pesticide-free wheat grass. Wheat grass is one of the most potent detoxing foods on the planet. For this, it is also called "revitalising grass". At PLANT-HOLIC, we offer it as a cold-pressed juice, which means that the wheat grass is squeezed and its essences are extracted without applying heat. (500 yen per shot/excluding tax) Some of our customers like to come on a regular basis to drink of its beauty and skin regeneration benefits. Contrary to its appearance, the taste is slightly sweet, and you can feel the supple aroma of the young leaves as it rejuvenates you.
People are intrigued by how beautiful and delicious it is.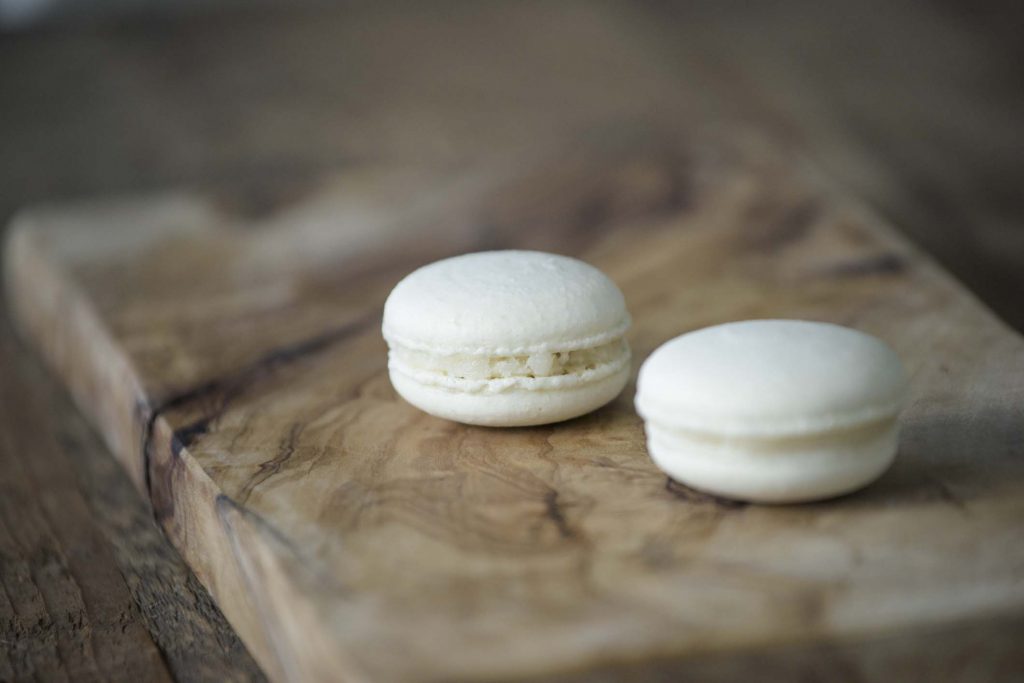 Mimi says, "the dilemma of world poverty is sadly contradicted by our excess supply of food, and environmental pollution and destruction. Do you know what is in the food that fish and farmed animals eat? The meat of which humans consume every day? But, that is only the half of it! I never thought it was possible to make such beautiful and delicious food without using animal products such as meat, fish, and dairy so easily!" in order to communicate Mimi's passion, we at PLANT-HOLICs hope to emphasise the popularisation of veganism. This is a photo of a salted vanilla vegan macaron developed by Mimi, the first of its kind in Japan! Ordinary macarons contain egg whites, however, we omit them. The temperament of the salt is thick and mellow.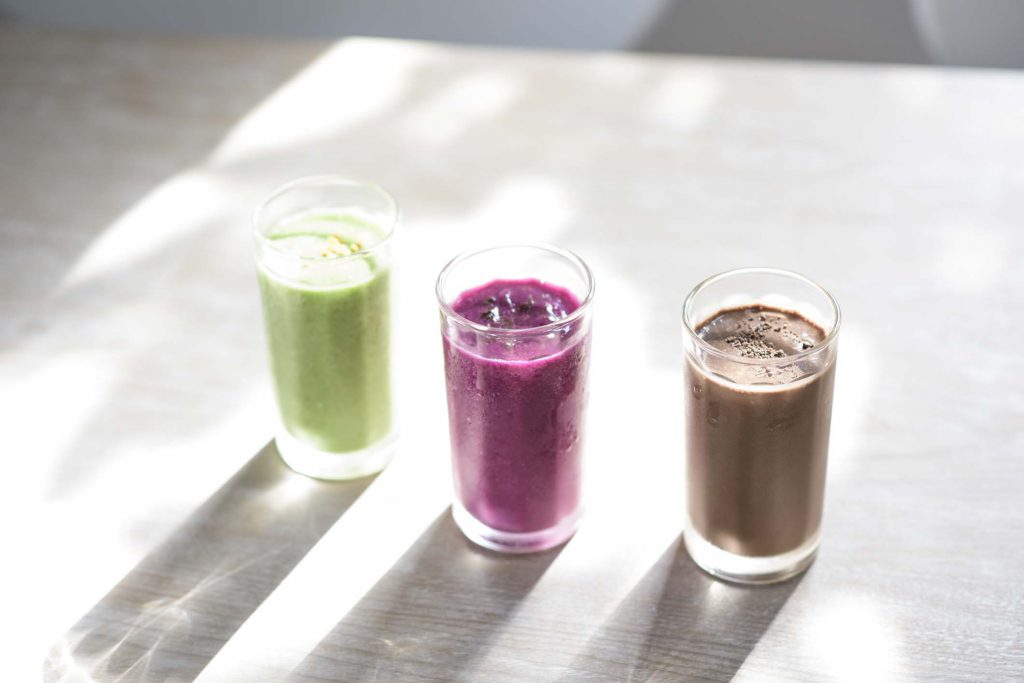 Drinks can be enjoyed in-house or made to take away. Smoothies to help you enjoy the seasonal ingredients: On the left is our Okinawan Herbs and Greens Smoothie, which contains seasonal Okinawan medicinal herbs ( Moringa, Fuchi Ba, Sashi Grass), seasonal fruits (banana, pineapple, guava, kiwi fruit, etc), and ginger. The ingredients and price of the seasonal smoothie shown in the middle vary accorrding to the season. On the right is our Love Cacao Smoothie, which contains home-made almond milk, bananas, cashews, organic maple syrup, mixed berries, organic raw cacao, coconut milk, grain coffee, and organic low cacao nib, etc. (850 yen · tax not included)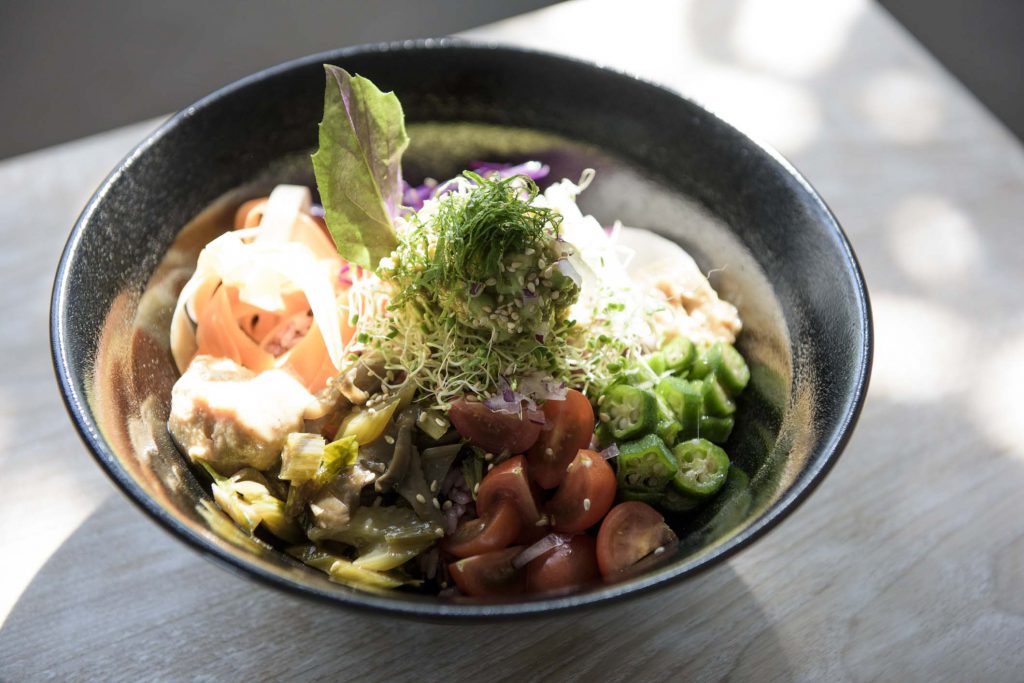 Our spicy sushi veggie bowl, packed with seasonal ingredients grown right here in Okinawa, including cherry tomatoes, purple cabbage, okra, and marinated celery, is only 1,200 yen (excluding tax). Our pesto, made up of spicy wasabi, and avocado paste, is a customer favourite! I will tie up a bag of white rice blended with ancient grains.
This fashionable café is located one step below the street in a renovated foreign residential space.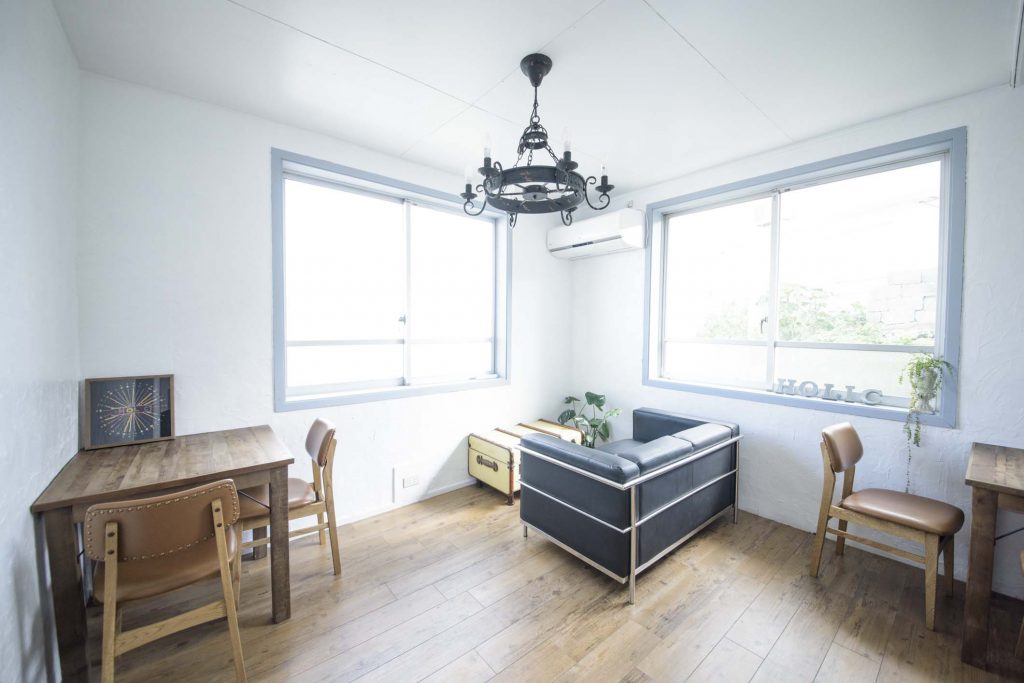 Keep a look out for us when you pass by so that you don't miss us! The cafe boasts a wonderful view of the Ginowan Bay residential area and the cerulean East China Sea. The inside of the café, brightened by the warm rays of the Okinawan sun, provides a a welcoming, laid-back environment that is especially recommended for families with little ones! Cooking classes and workshops about veganism are also held here.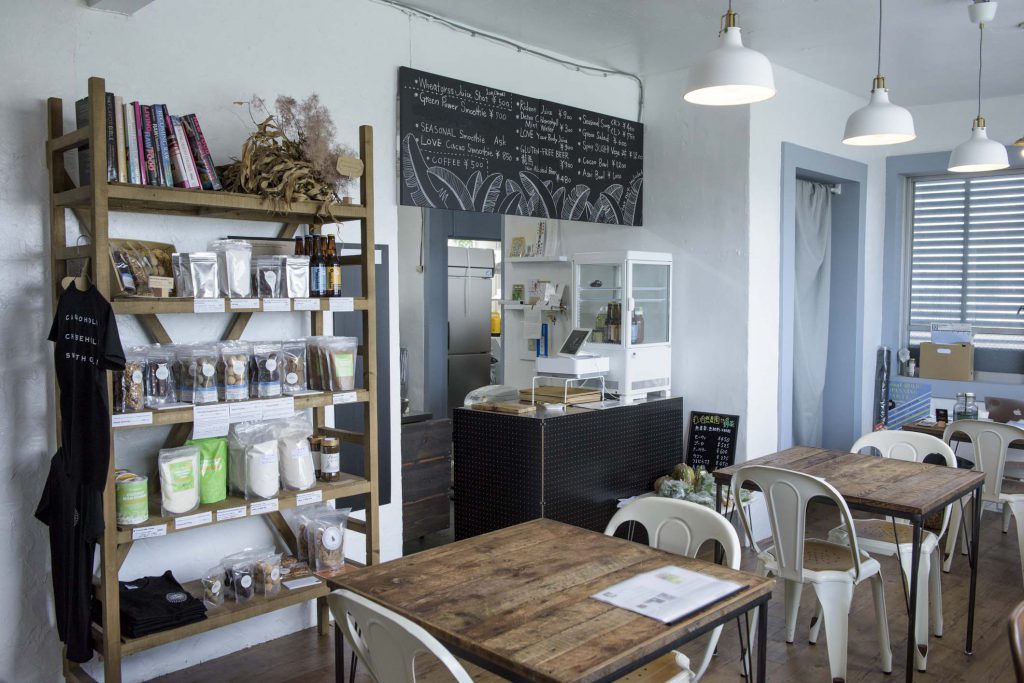 PLANT-HOLIC's original vegan and low Fod-Map confectionaries are also sold here. Would you like to take some as a souvenir?
Mimi is also fluent in English. For those of you who are thinking about changing your diet, or wanting to receive allergy or dietary advice, why don't you come in for a consultation?
PLANT-HOLIC
location
Okinawa Prefecture Ginowan City, Jiabao 4-17-15
business hours
9:00〜16:00
Regular holiday
Sundays, Mondays, and Tuesdays
phone
080-3626-0880
URL
https://www.facebook.com/plantholic/
Parking Lot
Capacity of 6-8
Remarks
★Instagram
https://www.instagram.com/plant_holic/
COUPPON

A homebase for up-to-date vegan information.

10% off on all store items!

※ Please be sure to check the terms of use of each coupon.

【Terms of use】

Present this coupon in store to purchases of over 3000 yen (first-time purchases only).

EXP. date:12/31/2019