A sunny, friendly cake shop that is loved by everyone in the area Sunny Side Cakes (Nodake, Ginowan City)
Along with its fruit-filled tarts and uniquely named baked goods, Sunny Side Cakes is well-known for its allergy-friendly cakes. This local cake shop can handle a variety of needs, including souvenirs, celebrations, and special anniversary cakes.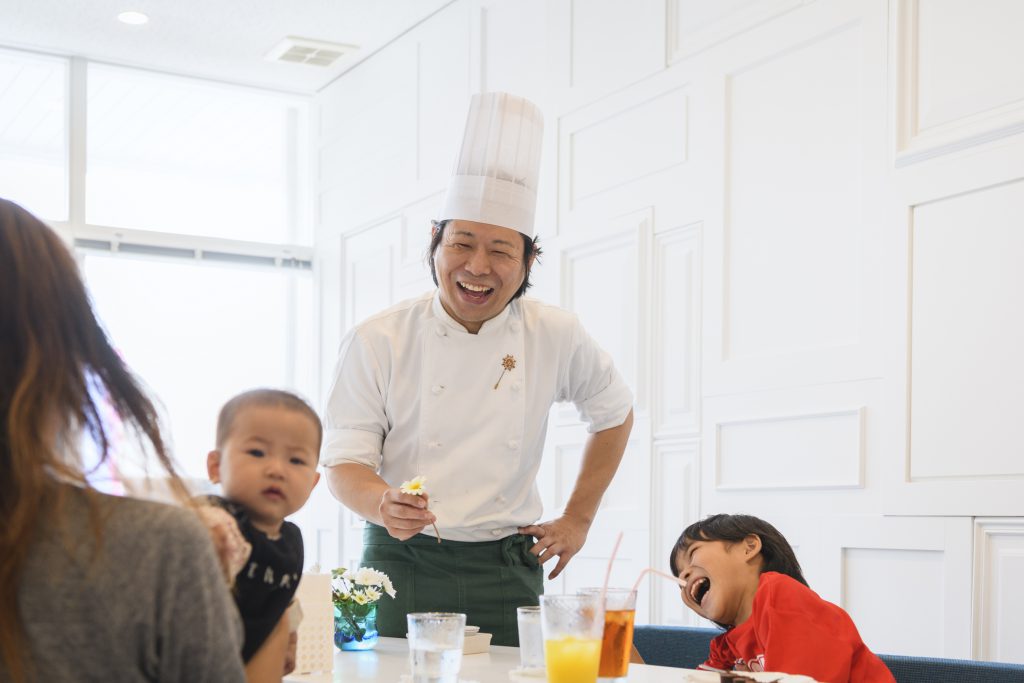 Hey Kota, how was school today? owner and chef Ichitaro Kazama says to his regular customer, an elementary school student. This mother says that she enjoys spending time at Sunny Side Cakes with her kids. Everything is delicious here! Elementary school student Kota explained the appeal of this shop. During the interview, customers came in one after another. It is clearly a shop with strong local ties.
You can relax with your kids at this cafe.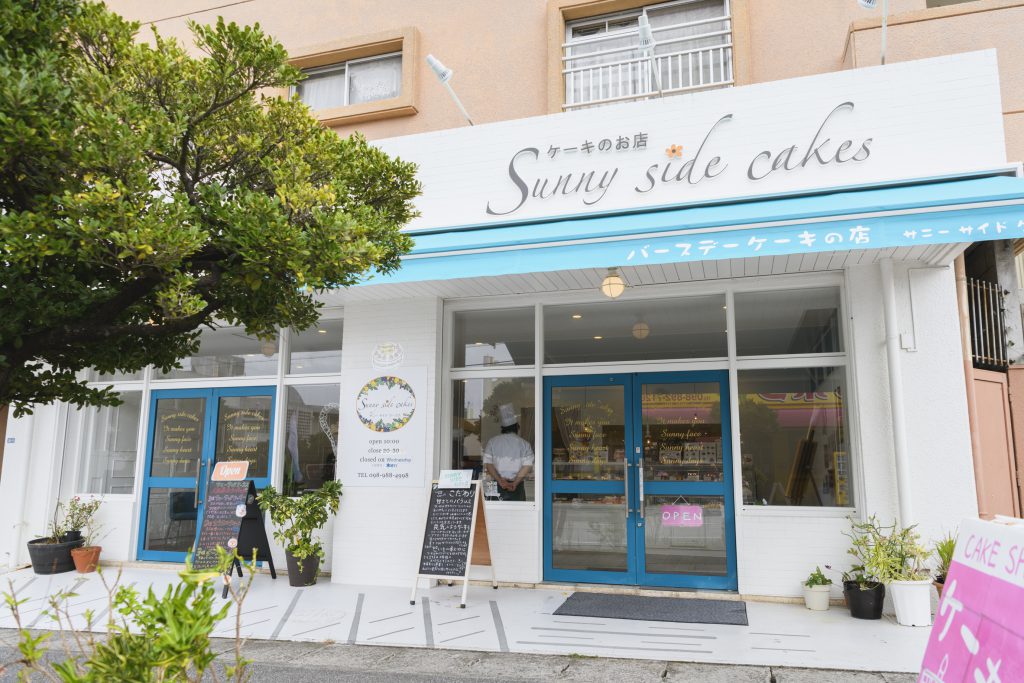 In Nodake, a residential neighborhood of Ginowan City, your eye is drawn to a pure white exterior wall with a pure blue door. From the wide glass exterior of the storefront, you can see a bright interior that is bathed in gentle sunlight. The parking lot is next to the shop. Since there is relatively little traffic, it is easy to park a car on the wide street in front of the shop as well.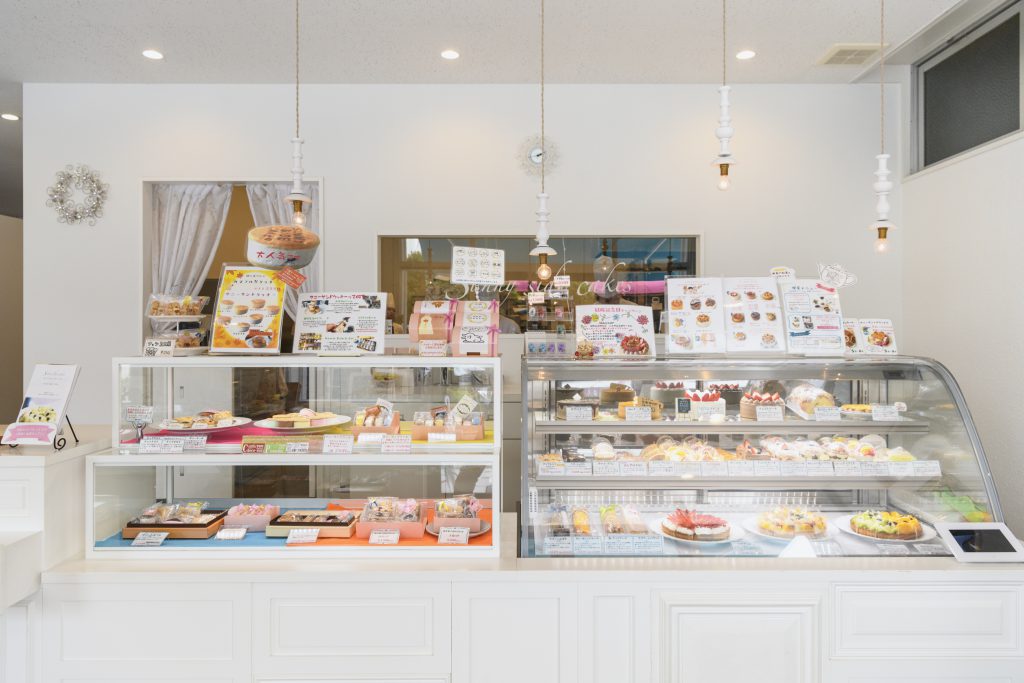 30 kinds of fresh sweets and 15 kinds of baked goods are available each day. The cafe menu is also substantial, and includes a Full Cake and Tea Set Special for ¥850 (tax included) that combines your favorite tea served in a pot and a daily cake special. There is considerable attention paid to the tea sold in store as well.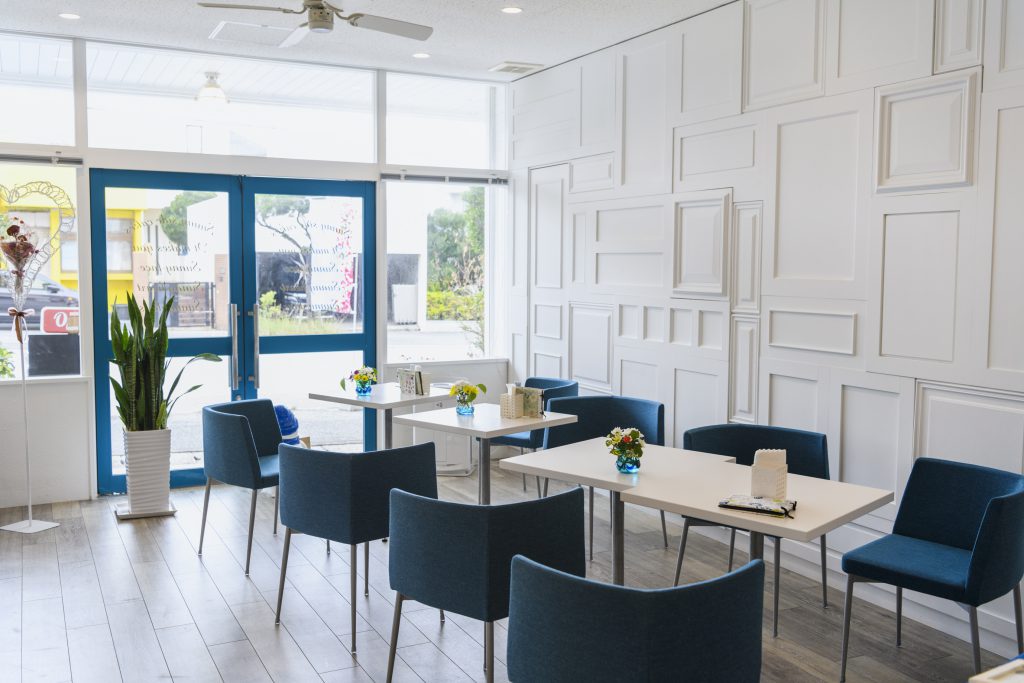 In the cafe space, each table is large and the layout is relaxed. Even if you have a stroller, you can enjoy some tea without any hesitation. Identical to the front entrance, the fresh blue tables and chairs are a favorite of Mr. Kazama. It seems that they were a special order.
This lineup is extravagant and full of fruit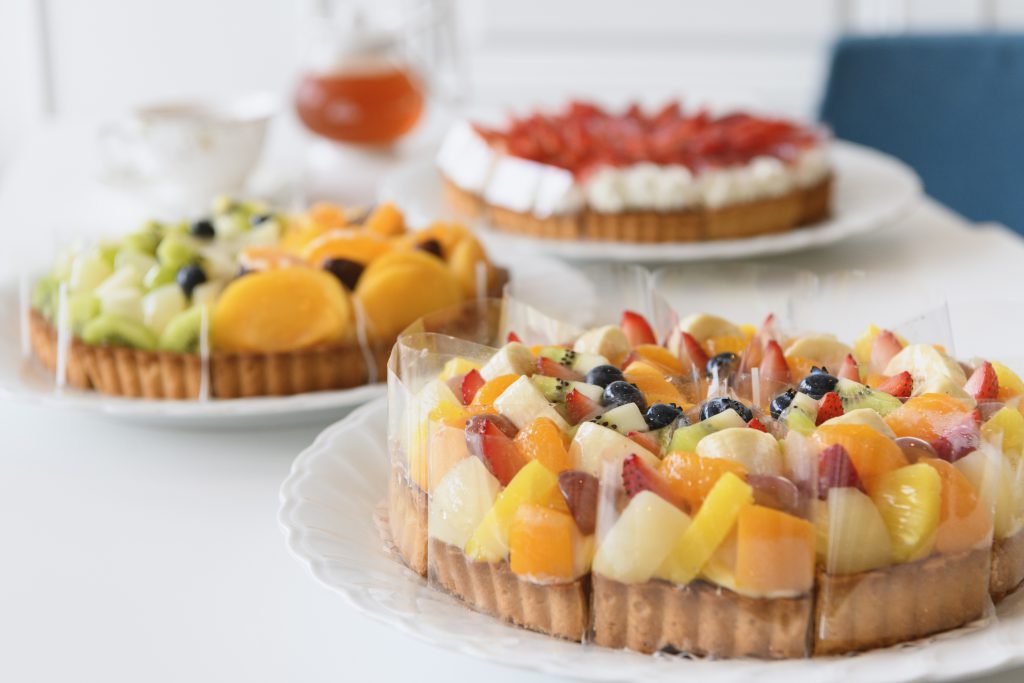 Mr. Kazama is concerned about children lacking fruit. This colorful tart (shown in photo) was created with the intention of providing as much fruit as possible for them to eat. Almond cake and custard are put in the tart batter, Blueberries and strawberries, bananas, oranges, pine, and pears make up the extravagant toppings for the number one most popular tart. The green tart (on the center left) topped with kiwi and melon has a moderate sugar content and is said to be good for skin and diet, The autumn tart (on the center right) is an extravagant dish that uses plenty of seasonal persimmons. All for ¥400 per piece (including tax).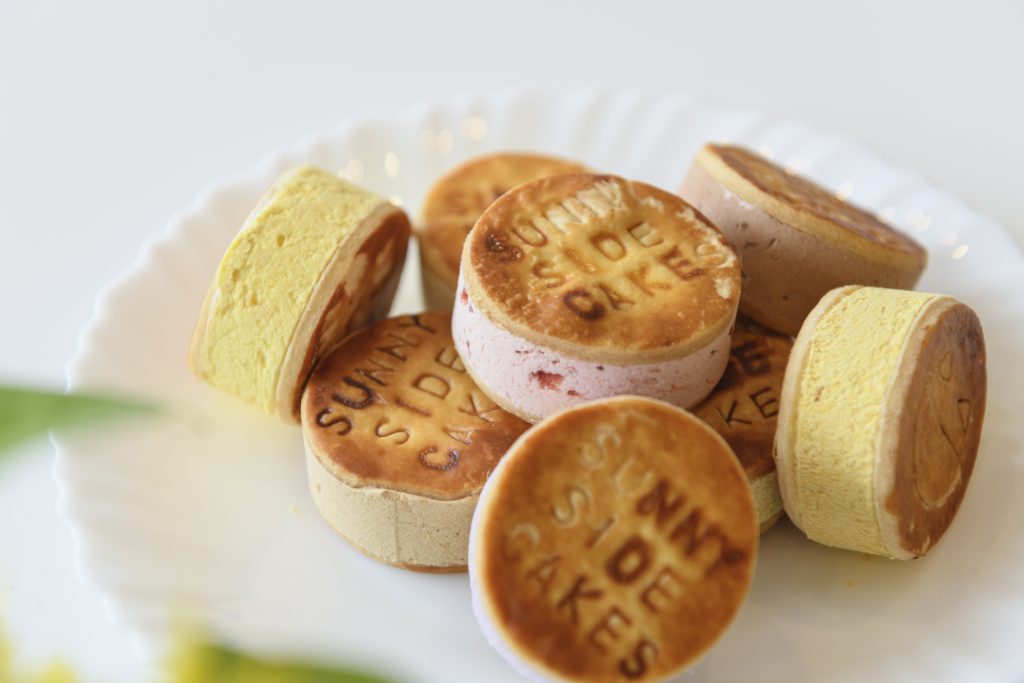 The Sunny Side cookie is a cream sandwich with a buttery sable, and a base of white chocolate. With rum raisin, cafe nut, chocolate nut, pistachio, taro milk, strawberry, and mango orange, there are a total of 7 types at ¥250 per piece (tax included). If you get it frozen, you can enjoy a creamy mouthfeel like ice cream with the crispy feeling of a sandwich. It is the number one most popular souvenir.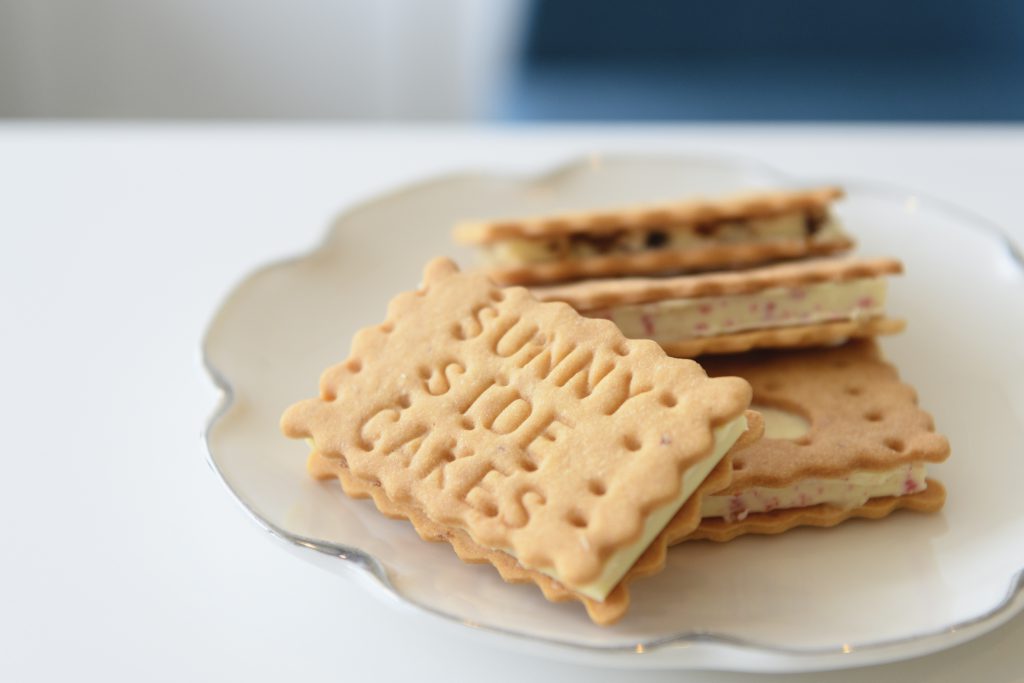 There are two kinds of Ginowan chocolate sandwiches: raisin and raspberry. Thinly baked almond cookie sandwich with white chocolate. They are accented by the tartness of raisin and raspberry. ¥200 per piece (tax included).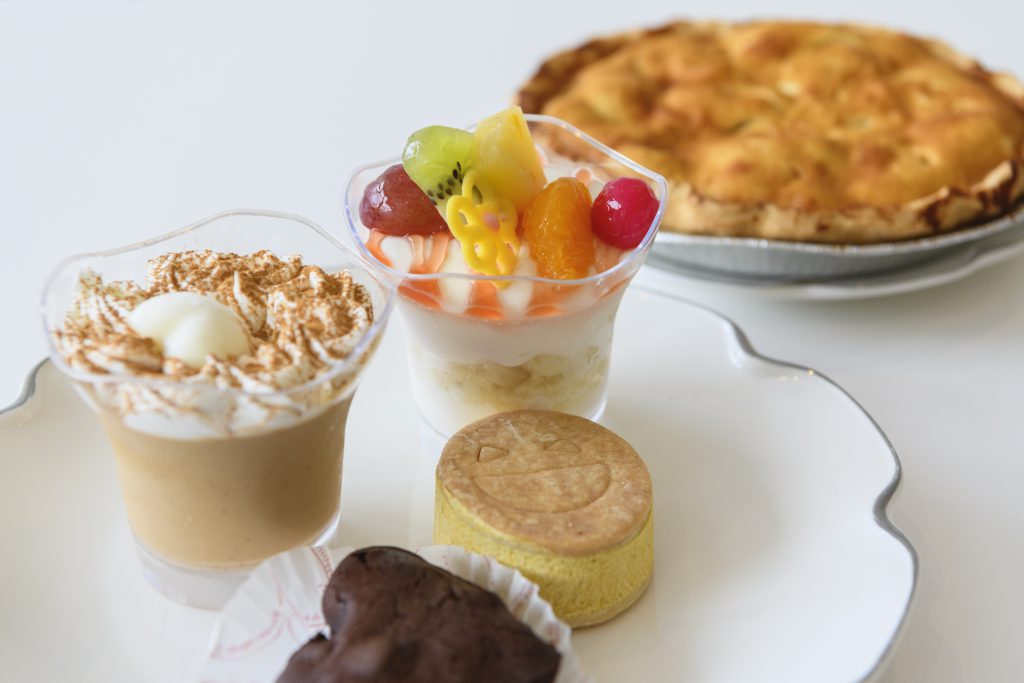 Some sweets are allergy-friendly. Currently, the chocolate gateau (pictured, ¥250, tax included) does not contain wheat flour. Chai pudding (left, ¥330, tax included) and rare cheese (middle, ¥400, tax included), The apple pie (back, ¥250 per piece, ¥900 whole, tax included) does not contain eggs. Similarly, a Sunny Side cookie made without eggs is always prepared. A gentle, local Ginowan cake shop that loves children. Please come and visit sometime.
サニーサイドケークス
location
1-36-6 Nodake, Ginowan city, Okinawa prefecture
business hours
10:00〜20:30
Regular holiday
Wednesdays
phone
098-988-4998
URL
https://peraichi.com/landing_pages/view/sunnysidecakes
Parking Lot
Yes (6 spaces next to the store)
Remarks
★Facebook
https://www.facebook.com/makeyousunnyface/
COUPPON

Popular for tarts that are full of fruit.

Get 1 free Sunny Side cookie.

※ Please be sure to check the terms of use of each coupon.

【Terms of use】

Present coupon at the shop. (excluding December 10th - 28th)

EXP. date:12/31/2019