Pigs with wings! Ceramic "Flying Pigs (Ton Ton)"! Haru Urara "Yachimun" Ceramics Shop. (Kiyuna, Ginowan City)
Haru Urara Ceramics Shop produces and sells "Flying Pigs (Ton Ton)" and "Flying Shisa" (feathered Shisa) ceramic works. All works are handmade by the shopkeeper, so each one is unique and special. Our side-by-side smiling pigs welcome you to the store!
Our original ceramic work, "Flying pig (Ton Ton)" received the "Prefectural Governor's Excellence Award" and "Ginowan City Commerce and Industry Chairman's Award"!
The Flying Pig "Ton Ton" ceramic work was awarded the "Prefectural Governor's Excellence Award" at the 36th Okinawa Prefecture Industry Festival. The creator was an Itoman restaurant manager at the time, when he started to sell ceramics. He re-located to Kiyuna, Ginowan City on May 2015, and the same ceramic work received the "Ginowan City Chamber of Commerce and Industry Award" in the same year. Currently, he established a shop and gallery in Kiyuna, Ginowan City, and continues to produce and sell "Flying Pigs (Ton Ton)". Various-sized "Flying Pigs (Ton Ton)" are aligned side-by-side in the shop; and now feathered, white Shisa ceramics that commemorates one's 99th birthday are also being sold. Both works have been endorsed by Ginowan City as certified products.
We produce and sell pig and Shisa ceramics based on Okinawan history.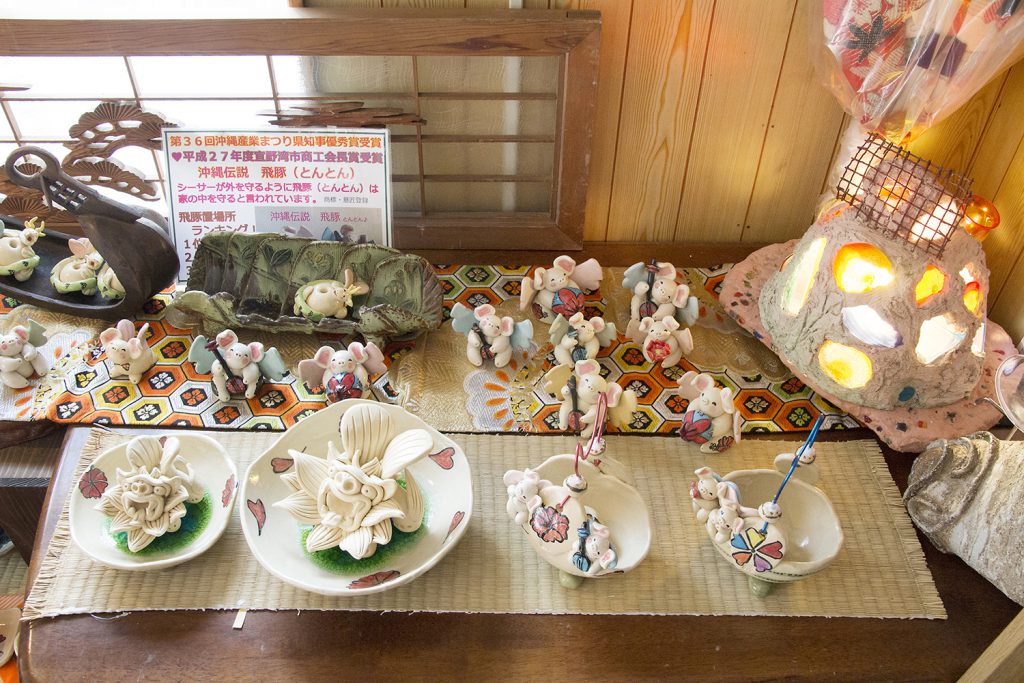 Long ago in Okinawa, there were many homes that kept pigs on the premises. There are even still traces of pig breeding huts and pig toilets remaining in old homes and compounds today. Not to mention pork as a meal, it is said that even going out to a pigsty, hitting a pig, and making it wail removed bad vibes from the home. Our "Flying Pig (Ton Ton)" ceramic works place emphasis on the pigs that played such a major role in the lives of Okinawans long ago, and it is believed to bring good luck. When it was awarded the "Prefectural Governor Prize of Excellence", we started producing and selling the "Flying Pig (Ton Ton)" full-time at Haru Urara Ceramics Shop. Our "Flying Shisa" also, with their ceramic feathers, has won two awards from the National Tourism Federation. Both works are registered trademarks of our shop; you won't find them anywhere else!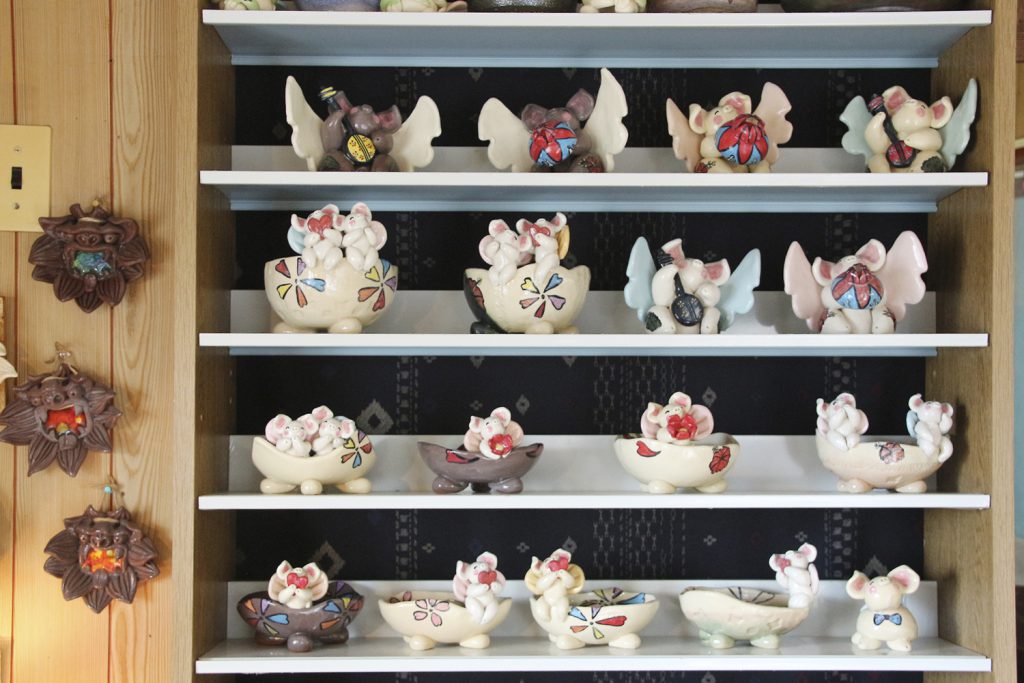 Just like the pig was revered in Okinawa's past, a cute smiling "Flying Pig (Ton Ton)" is favored as an ornamental guardian of the home. There are various sizes from small to large, and their poses are humorous and interesting; one is playing the Okinawan instrument called the Sanshin, one is holding the Hanagasa used in Ryuku dance, one even doubles as an incense holder and a flower vase.
Because everything is handmade by the shopkeeper, each work is unique; there are minute differences in the facial expressions and poses of each one. So carefully search for your favorite ""Flying Pig (Ton Ton)""! They are sometimes sold at Prefectural exhibitions. If you are planning to visit our shop directly, please make an appointment by phone.
Check out the inside of the store (Link: https://www.youtube.com/watch?v=iWpmDuGAG5g )
1-29-12 Kiyuna, Ginowan City, Okinawa
COUPPON

These pigs have wings! The "flying pig" ceramics shop.

Coupon: All products are 10% off!

※ Please be sure to check the terms of use of each coupon.

【Terms of use】

EXP. date:12/31/2019