A Stylish Oceanview Hotel – Moon Ocean Ginowan Hotel & Residence (Uchidomari, Ginowan City)
A large building located in an ideal spot neighboring the beautiful Tropical Beach, near the Okinawa Convention Center and with excellent access to airports and tourism areas.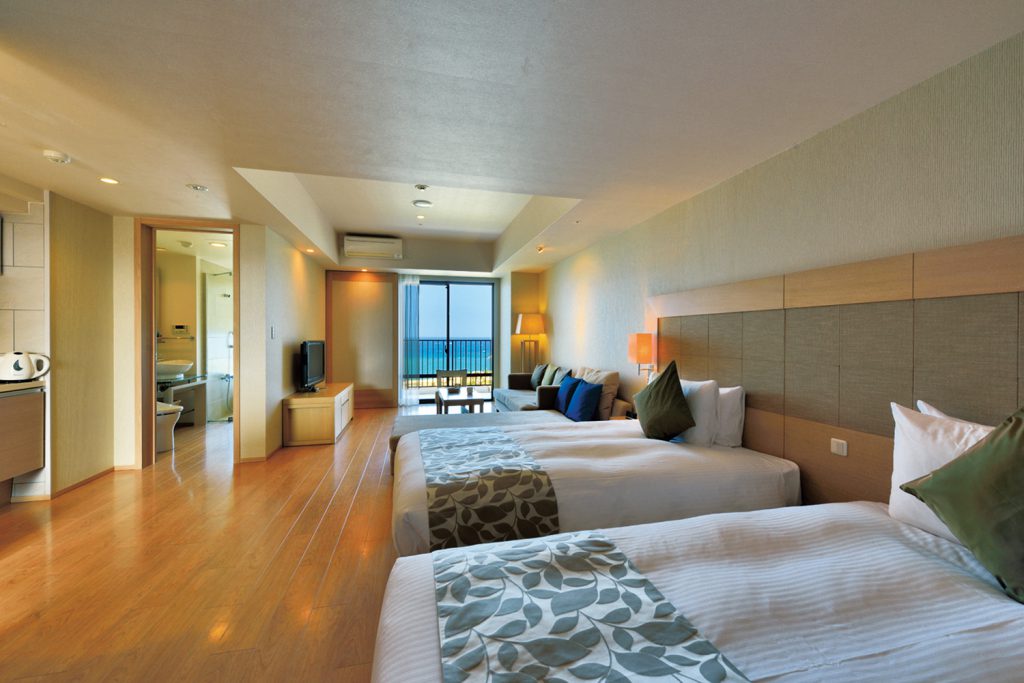 From the stylish and liberating ocean view of each and every room, one can enjoy the blue sea and sky, beautiful setting sun, and mystical night scene depending on the time of the day. Wouldn't you like to leave everyday life behind and enjoy such an elegant time?
Due to its ideal location near beaches and shopping centers, from the hotel, one can enjoy swimming in the Tropical Beach, visit the popular American Village, the Naha Shintoshin metropolitan area, and finally, go shopping on Kokusai-doori (International Street) to complete a fulfilling journey.
A Comfortable and Enjoyable Residential Stay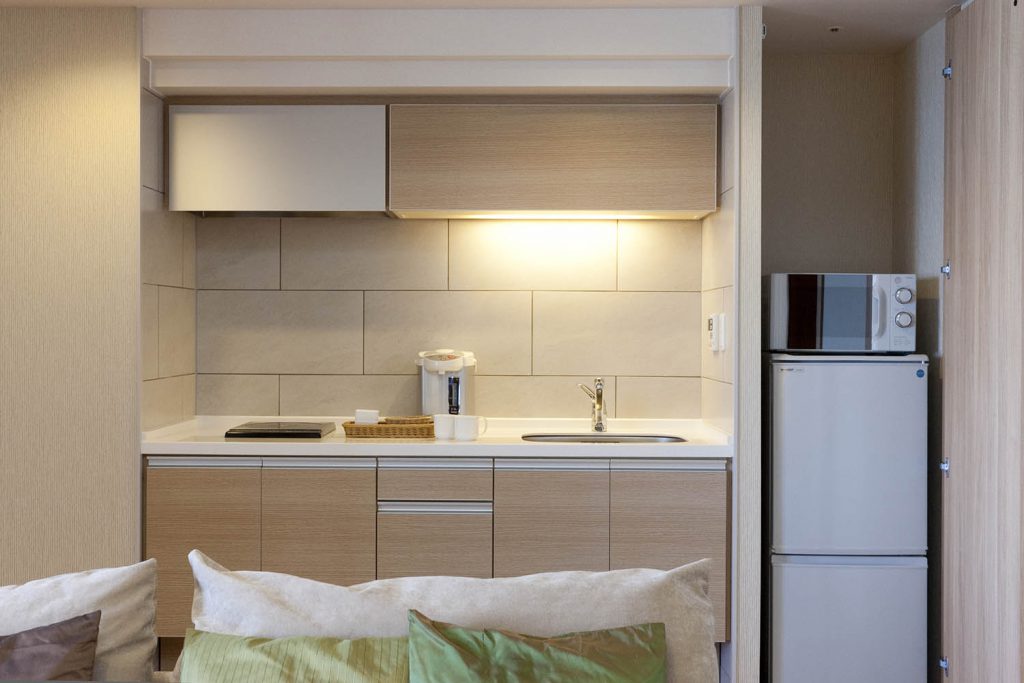 At the Moon Ocean Ginowan, each and every room is equipped with a kitchen, microwave, and large fridge, with cooking tools and eating utensils available on request. Fresh local ingredients allow for easy and fun cooking, thus giving one the relaxing feeling of being in one's own home within an environment completely free of smoking. Six types of rooms are available, from twin rooms with a spacious interior space to standalone suites with a relaxing living room and a 2-bed room for private moments. With this deluxe design, the rooms can accommodate 4 adults living comfortably for a long time without trouble.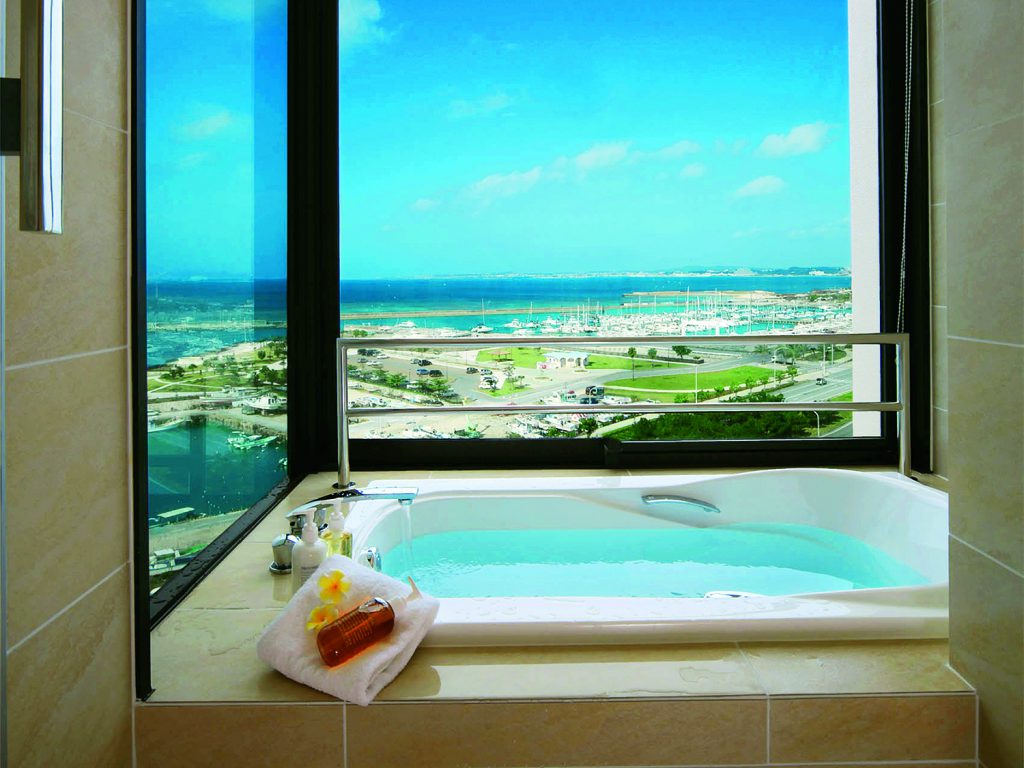 From the vast cobalt blue ocean expanding before one's very own eyes, to the beautiful sun setting over the East China Sea, from the ocean view of one's room, the customer can experience the vividly changing sceneries of the great Southern sky. This is a truly liberating experience and a luxurious time of relaxation. In every room free high-speed WiFi is provided, so please make full use of it to gather information or even for business purposes. We also have PCs for rent, at a fee.
Introducing the Comfort of Condominium Life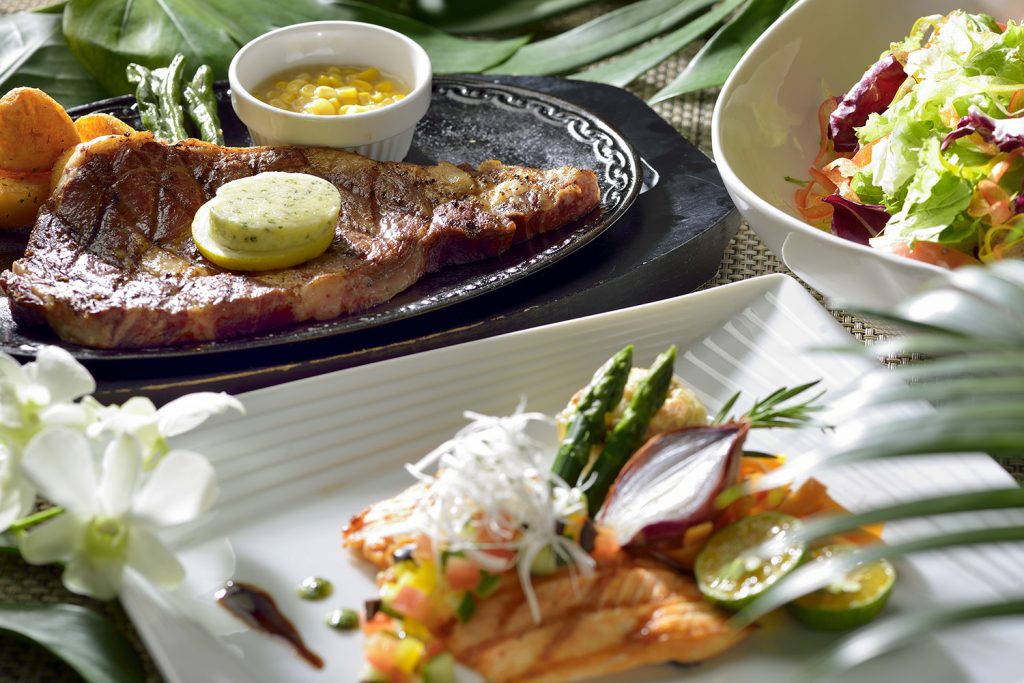 At our all-day restaurant Ocean Grill, facing a garden terrace overflowing with light, we offer a menu centering on an American-style grill with a rich variety enjoyable by children and adults alike. Made from carefully prepared fresh ingredients, please enjoy the deliciousness of fresh food from the land and the sea created in a kitchen of southern aroma that will certainly rouse your taste buds, and have a great time.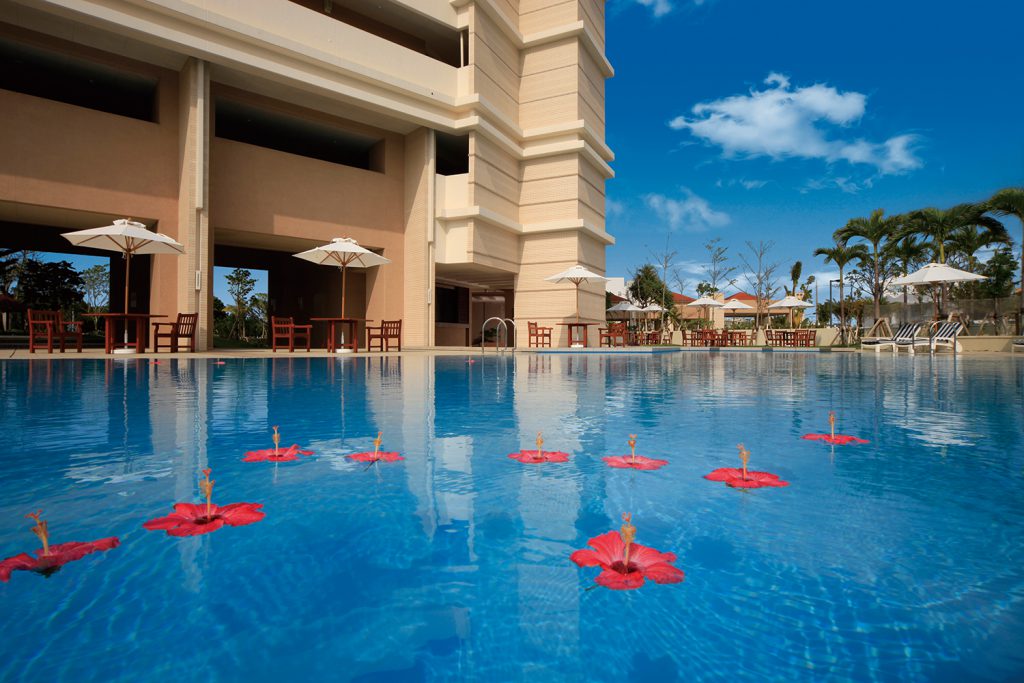 Enjoy yourself and swim freely in our garden pool while basked in the Southern summer sun and, when you are tired, we have installed a jacuzzi next to the poolside for you.
* The pool is open from April to October.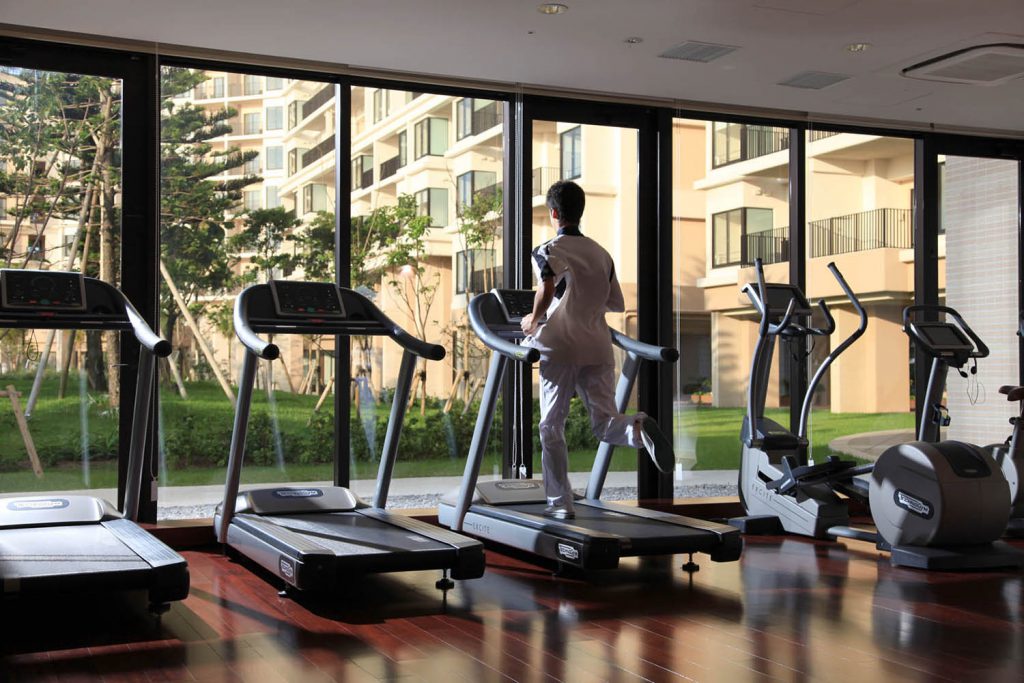 Our sports gym is equipped with the latest equipment to assist you in exercising and working up a sweat, and we have also prepared a variety of facilities from restaurants, pools to athletic spaces to further enrich our guest's stay here with us.
Moon Ocean Ginowan Hotel & Residence
| | |
| --- | --- |
| location | 558-8 Uchidomari, Ginowan City, Okinawa Prefecture |
| phone | 098-890-1110 |
| URL | http://www.moonoceanginowan.jp/ |
| Parking Lot | 143 available (Free) |
| credit card | JCB, VISA, MASTER, UC, AMEX |
| Main facilities | Outdoor pools, Jacuzzi, Athletic gyms |